World news story
Peacekeeping English Language Training project in Montenegro
Cooperation between the Ministry of Defence of United Kingdom with the Ministries of Defence of the Montenegro, Kingdom of the Netherlands and the Kingdom of Norway
"Peacekeeping English Language Training" project has been officially launched today at the Danilovgrad Training Centre by signing a three-year Action plan. The Action plan will be signed by Defence Attachés of the donor countries Col. William English, United Kingdom Defence Attaché, Lt. Col. Robbert Verbrugh, Netherlands Defence Attaché, and Col. Esben Aass, Norwegian Defence Attaché and Mr Bojan Sarkić, State Secretary, of the Ministry of Defence of Montenegro.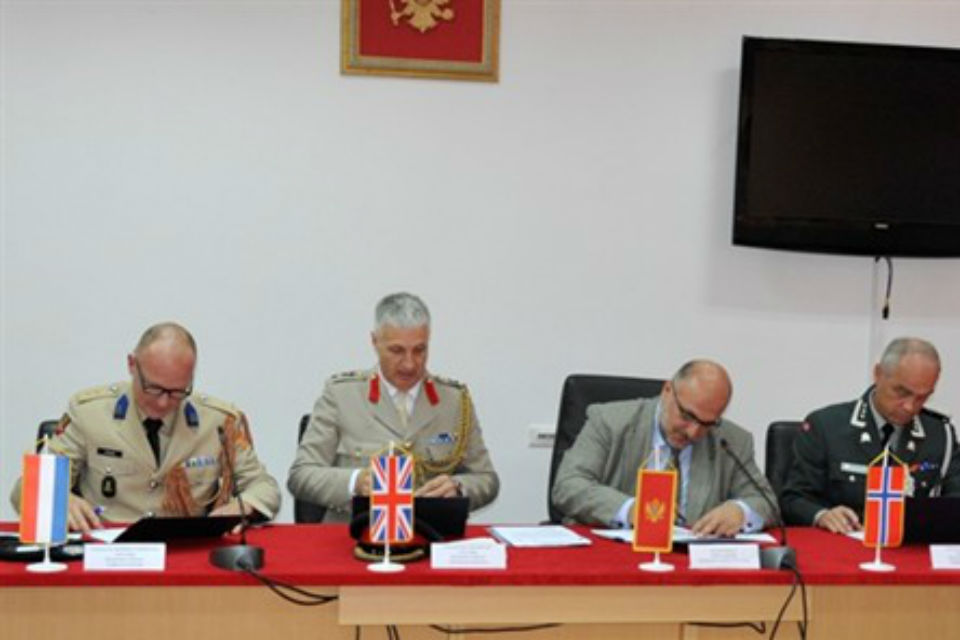 This three-year project is funded by the Ministry of Defence of the United Kingdom, Ministry of Defence of the Kingdom of the Netherlands and the Ministry of Defence of the Kingdom of Norway. The author and the implementing partner of the project is the British Council Montenegro.
The project aims to develop a sustainable system and structure of English language training for the Ministry of Defence Montenegro by 2017 and strengthen internal capacities for a continuous English training. The English language is one of the main prerequisites for taking part in interoperability activities and potential NATO membership - the priorities of the Montenegrin foreign policy. Therefore, this project has an important role in providing the necessary support to the Montenegrin Ministry of Defence in meeting these requirements.
The project is designed as building capacity on two fronts: human and technical resources and these activities will be running over a course of the next three years.
The strengthening of human resources (HR) will include the following:
Intensive teacher training and expanding the pool of teachers with special skills fit for the needs of the Ministry of Defence
3-month intensive English courses
Intensive short specialist courses in English
Individual lessons for senior officials
Online courses
Individual guided learning
English testing for all personnel
Cooperation with the Ministry of Defence of Serbia and Bosnia and Herzegovina
A comprehensive data base of all personnel with English training history and requirements
Annual academic calendar
Education Policy development: a strategy for the implementation of English training
Development of customized curricula
Development of technical capacities will include the following:
Equipping of 6 IT classrooms
Internet connection
2 new mobile classrooms with 30 laptops
Purchase of course books, teaching materials, audio and video materials for equipping of IT classrooms, etc.
Purchase of software for learning English
Online courses for self-study
Other digital resources for English study.
Throughout the project implementation, the British Council will engage the UK experts for military English as well as local experts for English teaching.
The aim of the project is to develop a stable and sustainable system of English language training that will meet all the needs of the Ministry of Defence in terms of international cooperation, Euro-Atlantic ambition and engagement in peacekeeping missions and at the same time reduce and eventually eliminate dependence on outsourcing English training services.
Published 28 July 2014