PC William Barker receives posthumous bravery award
A Cumbria PC who died saving lives by preventing crossing of flood-damaged bridge posthumously awarded the Queen's Commendation for Bravery.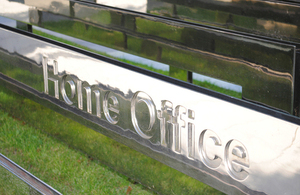 On the morning of 20 November, 2009, PC William Barker helped cordon off the Northside Bridge before venturing onto it himself to check reports that a vehicle had been swept into the River Derwent. As the 44-year-old father-of-four looked over the bridge to make further checks, a section of the bridge collapsed beneath him and he was swept away by the river.
His bravery and sacrifice were today recognised with a commendation by the Queen.
Home Secretary Theresa May said:
'I am pleased that we are today able to show our appreciation and gratitude to the family of PC Barker for his act of selfless bravery. He was well aware of the danger he faced that morning but he carried out his duty with determination and courage. He showed the best attributes of British police officers in exceptionally difficult circumstances.
'I have spoken to Mrs Barker and personally expressed my thanks for her husband's sacrifice and I hope this award adds to the legacy he has left her and their children.'
PC Barker had been an officer with Cumbria Constabulary for 25 years, working mainly in the roads policing unit. He received a number of commendations from the force, including one from the Chief Constable.
Notes to editors:
The Queen's Commendation for Bravery is bestowed by Her Majesty the Queen and recognises gallantry that involves a risk to life.
PC Barker was originally nominated for the commendation by Cumbria Constabulary supported by the Home Office and HM Inspectorate of Constabulary. It was then considered by the George Cross committee, based in the Cabinet Office. Endorsement is then sought from the Prime Minister before it is formally approved by The Queen. 
For more information contact the Home Office newsdesk on 02070353535.
Published 23 March 2012