News story
Patients benefitting from improvements at The Rotherham NHS Foundation Trust
Patients in Rotherham are benefitting from improvements in how their local hospital is run, according to health regulator Monitor.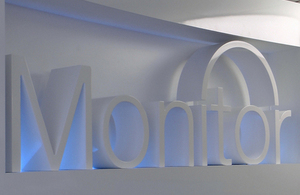 Strengthening the senior leadership and improving how the board and its committees function has helped ensure the trust can provide quality care for its patients by making sure potential problems are identified and fixed.
Monitor has agreed that The Rotherham NHS Foundation Trust has made the improvements necessary to address licence breaches relating to governance at board level.
However, the trust remains in breach and continues to be subject to enforcement action in relation to its strategic and financial planning. Monitor will continue to work with the trust, which also provides community services, as it seeks to build on the progress made.
The regulator stepped in in 2013 after problems were identified in financial planning, the effectiveness of its Board of Directors and patient record keeping. The trust has also addressed issues with its electronic patient records system.
Paul Chandler, Regional Director at Monitor, said:
It has taken some time, but the trust has made significant improvements in how it is run and strengthened its senior leadership.

We think patients are benefitting from the progress that's been made but want to ensure that the trust continues to improve, particularly in sticking to its plan to deliver quality and sustainable services to patients.
Monitor will continue to scrutinise the trust's performance and may take further action, if required.
Published 30 January 2015