Paterson Welcomes RIRA Conviction
Secretary of State for Northern Ireland Owen Paterson has welcomed a Lithuanian court's decision to convict Real IRA member Michael Campbell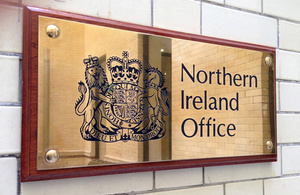 Secretary of State for Northern Ireland Owen Paterson has welcomed a Lithuanian court's decision to convict Real IRA member Michael Campbell of attempting to buy weapons and explosives to support a terrorist campaign in Great Britain as well as their murderous activities in Northern Ireland.   
Campbell's arrest and conviction followed an operation carried out jointly between the Security Service and the State Security Department in Lithuania.
Commenting on the conviction, Mr Paterson said:
"This is another excellent example of what can come from the high levels of co-operation between countries across Europe and beyond in combating terrorism.
I am very pleased with this verdict and would like to congratulate the Security Service and the Lithuanian authorities who have collected the evidence that the Court in Lithuania has clearly found to be both convincing and compelling.
I have no doubt that this will have dealt a blow to RIRA but we are not complacent and we remain determined to do all that we can to bear down on those who are the enemies of the whole community throughout the United Kingdom".  
Published 21 October 2011