News story
Paterson Welcomes Newly Appointed Northern Ireland Human Rights Commissioners
Secretary of State for Northern Ireland and Minister of State formally welcome appointments to Northern Ireland Human Rights Commission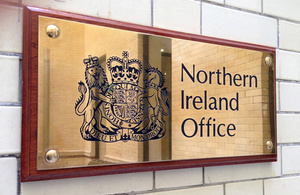 Secretary of State for Northern Ireland The Rt Hon Owen Paterson MP and Minister of State The Rt Hon Hugo Swire MP have formally welcomed the newly appointed Commissioners of the Northern Ireland Human Rights Commission to their new roles.
Hosting an event for the Commissioners at Hillsborough Castle this evening Owen Paterson said: 'The independence and vital work of the Commission  plays an important role in protecting and upholding human rights in Northern Ireland and I look forward to working with them in the months and years ahead'.
The Northern Ireland Human Rights Commission works vigorously and independently to ensure that the human rights of everyone in Northern Ireland are fully and firmly protected in law, policy and practice.
Published 27 September 2011