News story
Paterson attends Royal Irish Regiment homecoming events in Market Drayton and Shrewsbury
Secretary of State Owen Paterson joined thousands of well-wishers to welcome RIR soldiers back to their Shropshire base following their tour in Afghanistan.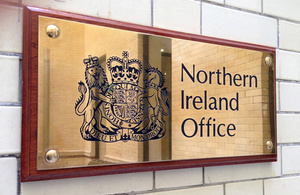 Owen Paterson, who is MP for North Shropshire, also attended a Church Parade in town of Market Drayton and will attend homecoming celebrations in Shrewsbury.
Owen Paterson said:
Never has a regiment got so much community support as the RIR. We saw that in recent months with people sending presents and messages of support to the soldiers.
There was a very high turnout, in the thousands, with people in Market Drayton showing their appreciation and gratitude to the RIR.
We are delighted that so many of the RIR have come back to us but we must also remember the McCormick, Dalzell and McKee families and we are grateful to them for what they have done.
Published 12 April 2011