News story
Passports - Where do you keep yours?
FCO urges British nationals to value their passport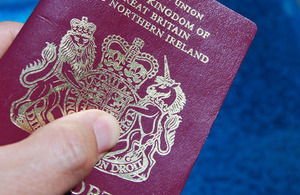 The Easter holidays are fast approaching and, according to recent research by the travel association ABTA, millions of British nationals are planning to travel overseas this April. In light of this, the Foreign and Commonwealth Office (FCO) have launched a social media campaign asking British travellers #WhereDoYouKeepYours ? to promote the value of the passport by asking Britons to keep it safe and be aware of where it is at all times.
Although most trips abroad are problem-free, tens of thousands of people still lost their passport or had it stolen last year and needed to be issued with an emergency travel document (ETD).
As a considerable amount of consular time is being taken up in handling cases of lost, stolen, damaged or invalid passports, the FCO have created six Vines (short video clips) which highlight some of the reasons that have led to people applying for an emergency travel document (ETD) abroad.
The Vines include:
Using your passport as a beer mat
Putting your passport in the washing machine
Placing your passport in the microwave
Theft of your passport
Using your passport as a notebook
John Heppenstall, Head of Consular Campaigns at the Foreign and Commonwealth Office, said:
Passports are essential for travelling and it is important to take care of them. Although most holidaymakers do, a lot of consular time could be saved if more people treated their passport as something as valuable as their phone or wallet. We also see people travelling who are not aware that certain countries require a UK passport holder to have six months of validity left on their passport from the date of entry, and even up to two blank pages in your passport. We strongly advise people to look after their passport, keep it safe and check its validity well in advance of travel. Go to www.gov.uk/foreign-travel-advice to find out the exact requirements for the country you are travelling to.
Christian Muir, Head of Passport Check and Send at the Post Office said:
Taking care of your passport and ensuring it is up to date and has sufficient validity to meet the requirements of your destination country is vital to ensure you have a stress free holiday. For those looking to renew their passport for travel this spring and summer the Post Office's Passport Check and Send Service ensures that passport applications are processed as quickly as possible as Post Office teams check the application for any errors to avoid rejection.
In 2014, 20,612 UK passports were reported as lost or stolen around the world last year and 39,053 emergency travel documents (ETDs) were also issued overseas.
The FCO's five top tips for looking after your passport are:
Value your passport and look after it carefully. A damaged passport cannot be used for travel
Your passport is not always safer on you (e.g. lock your passport in a safe if you have access to one), unless the local law requires you to keep it with you.
Make two photocopies of your passport – leave one with friends or family and take the second with you, or store it online using a secure data storage site
Use this photocopy as alternative ID, for example when going out at night
Make sure your passport is valid. For certain countries your passport must be valid for 6 months after the date you travel – check the entry requirements before you go
The Vines can be viewed on FCO's Facebook and Twitter feeds, and will soon be featured on the FCO's Vine Channel
Further information
About FCO 'Know Before You Go' campaign
The FCO 'Know Before You Go' campaign targets a number of audiences, from gap year students to package holidaymakers; sports fans to older travellers and people visiting friends and family abroad. The campaign works with more than 400 travel industry partners to communicate its messages. For more information visit our Know Before You Go page.
If you have any enquiries for FCO consular staff before you go or while abroad you can use the FCO's Twitter service @FCOtravel. Questions are answered 9am-6pm GMT, Monday to Friday and FCO staff aim to respond within 30 minutes. This service adds to the ways that British people travelling or living overseas can already get in touch with the FCO: by emailing our travel advice team or contacting local consular staff.
You can keep up-to-date with the latest FCO travel advice by signing up to the FCO's Facebook and Twitter feeds.
Information about how the FCO can help British nationals abroad:
| The FCO can: | The FCO cannot: |
| --- | --- |
| Issue you with an emergency travel document | Help you enter a country if you do not have a valid passport or necessary visas |
| Provide information about transferring money | Give you legal advice or translate documents |
| Provide help if you have suffered rape or serious sexual or physical assault, are a victim of crime, are ill or in hospital | Investigate crimes or get you out of prison |
| Give you a list of local lawyers, interpreters, doctors or funeral directors | Get you better treatment in hospital or prison than is given to local people, but we will raise concerns if treatment falls below internationally recognised standards |
| Contact you if you are detained abroad | Pay any bills or give you money |
| Contact friends and family back home for you if you wish | Make travel arrangements for you |
| Provide help in cases of forced marriage |   |
| Assist people affected by parental child abduction |   |
Published 23 March 2015