World news story
Passport fees for all British nationals overseas reduced by 35%
Her Majesty's Passport Office is making this reduction to give the fee payer better value for money as a result of savings generated from service efficiency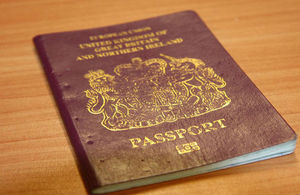 From 7 April passport fees for all British nationals overseas will be reduced by 35%. This is a tangible outcome of the successful repatriation of overseas passport production to the UK and reflects the savings generated from service efficiency.
As a result, the fee for an adult 32-page passport will be reduced from £ 128 to £ 83 while that for a child 32-page passport will be reduced from £ 81.50 to £ 53.00. The fee for a jumbo 48-page passport will be reduced from £ 154.50 to £ 91.
Her Majesty's Passport Office is making this reduction to give the fee payer better value for money as a result of the efficiency savings made by bringing the processing and issuing of overseas passports back to the UK. The price of a passport reflects the cost of processing and producing it and, where those costs are reduced, we will seek to pass the savings on to customers. The efficiencies delivered over the past three years from repatriating overseas passport application processing and printing to the UK are now reflected in lower fees charged. Please check the website before applying.
Published 4 April 2014