News story
Passengers to benefit from over £220 million station improvements
Minister visits Wokingham to unveil completed renovations at the 400th station to benefit from improved facilities for passengers.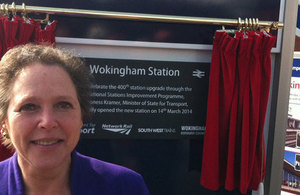 Transport Minister Baroness Kramer has visited Wokingham to unveil completed renovations at the 400th station to benefit from a £220 million national scheme to improve facilities for passengers. Wokingham Station has been completely refurbished as part of the National Stations Improvement Programme (NSIP). Set up 5 years ago with £150 million of government funding, NSIP has brought better stations to millions of passengers in England and Wales.
The £6 million project at Wokingham has been funded by NSIP, in partnership with South West Trains, Network Rail and Wokingham Borough Council. It has secured significant benefits for the station's passengers including:
a modern new station building
an improved transport interchange for taxis, buses and car users and a drop-off area
a new, bigger waiting area with more seating
a larger booking hall and improved ticket facilities
state-of-the-art passenger information screens
new toilets including wheelchair accessible facilities
a new cafe
Baroness Kramer said:
This scheme to improve our stations has been a real success, and Wokingham, the 400th station to benefit, is a great example. We have delivered £220 million worth of improvements to 400 stations in England and Wales.

It is making a real difference to the people who use our railways and is a great example of the rail industry working with local partners to benefit passengers and communities. The government is investing record amounts into transforming our railways and I look forward to the continued success of this programme.
Tim Shoveller, Managing Director of the South West Trains and Network Rail alliance, said:
Wokingham station has been transformed with a new station building that feels more spacious and welcoming, enabling passengers to pass through the station more quickly and easily. Together with the redesigned forecourt area and additional car parking spaces, Wokingham station is now fit for the 21st century.

During this franchise we have invested over £50 million in our stations as these provide a gateway to our rail services. We have greatly valued the partnership working with Wokingham Borough Council on this project.
NSIP aimed to deliver improvements to a minimum of 150 stations between 2009 and 2014, but has far exceeded its targets. Wokingham is the 400th station to benefit from the programme, with more projects planned thanks additional industry investment taking to the total fund to £220 million.
The government has allocated a further £100 million of funding to be spent on improving station infrastructure and the passenger experience through NSIP, with a further £100million allocated to Access for All, a fund to improve access at stations and on trains.
To date, 261 projects have been completed under NSIP, delivering improvements at 409 stations. Improvements include better accessibility, improved customer information, refurbished ticket offices and booking halls, installation of CCTV to improve security,new public toilets, cafes and waiting rooms.
A study undertaken by Passenger Focus in May 2012 found that there has been an average 30 per cent increase in satisfaction with the station environment where NSIP works have been carried out.
Rail media enquiries
Media enquiries 020 7944 3021
Out of hours media enquiries 020 7944 4292
Switchboard 0300 330 3000
Published 14 March 2014