News story
Passenger train derailment at Clogwyn-y-Gwin South foot crossing
Passenger train derailment at Clogwyn-y-Gwin South foot crossing, Welsh Highland Railway, 10 June 2018.
This news article was withdrawn on
This item has been moved to the National Archives as RAIB has published its safety digest describing this accident. See safety digest 06/2018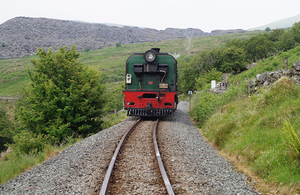 At around 12:30 hrs on 10 June 2018, the leading wheelset of Garratt locomotive No.143, hauling nine coaches carrying 74 passengers and seven members of staff, derailed following a suspension failure. There were no injuries but minor damage to the locomotive and infrastructure.
We have undertaken a preliminary examination into the circumstances surrounding this incident. Having assessed the evidence which has been gathered to date, we have decided to publish a safety digest.
The safety digest will be made available on our website in the next few weeks.
Published 20 June 2018