News story
Passenger injury following tram overspeeding at Middlewood Road
Passenger injury following tram overspeeding at Middlewood Road, Sheffield, 19 July 2018.
This news article was withdrawn on
This item has been moved to the National Archives as RAIB has published its safety digest describing this incident. See safety digest 10/2018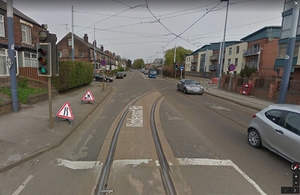 At around 15:58 hrs on 19 July 2018, a tram passed through a curve approaching Middlewood Road Terminus at about 23 mph (37 km/h), 13 mph (21 km/h) over the speed limit. The tram's motion through the curve and the subsequent braking caused a passenger to be thrown across the tram and to strike a door. The passenger was injured and part of the door mechanism was broken causing the door to come open.
We have undertaken a preliminary examination into the circumstances surrounding this incident. Having assessed the evidence which has been gathered to date, we have decided to publish a safety digest.
The safety digest will be made available on our website in the next few weeks.
Published 31 July 2018