Partnerships for Schools chairman appointment extended for 12 months
Education Secretary extends Michael Grabiner's appointment as chairman of the board at Partnerships for Schools (PfS) for 12 months.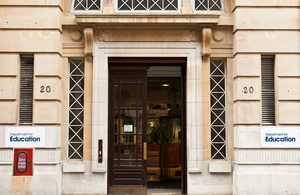 Michael Grabiner was first appointed as chairman of PfS on 2 January 2005 and was reappointed in 2008 for a further 3 years until 1 January 2011. The 12-month extension to his current appointment will mean he will remain in post until 1 January 2012. Recognising the current financial climate, Michael Grabiner has volunteered to take a 30% pay reduction from 2 January 2011. He has had a number of roles in the private sector. He was previously a partner at Apax Partners LLP, the Chief Executive of Energis plc, and Director of BT Europe.
Related links
Overhaul to England's school building programme Information on Michael Gove's plans to overhaul school capital investment in England, including details of Sebastian James's review.
 Further information
The appointment extension was agreed in accordance with the code of practice issued by the Office of the Commissioner for Public Appointments (OCPA) and was made on merit: political activity played no part in the decision-making process. However, in accordance with the original Nolan recommendations and the code of practice, there is a requirement for appointees' political activity (if any declared), and other information, to be made public.
</tbody>
Name
Term of office
Political activity declared
Remuneration
Other public appointments
Michael Grabiner

4 years (current, extended term)

7 years in total

None
£17,500 from 2 January 2011 until 1 January 2012, based on 1-2 days per month
None
Michael Grabiner's current remuneration, until 1 January 2011 is £25,000 per annum, based on an average of 1-2 days per month each year.

Partnerships for Schools delivers capital investment in schools for the government. Its responsibilities cover all secondary schools, primary schools and new free schools.

Partnerships for Schools' future role in capital procurement and delivery, along with that of central government and local authorities, is within scope of the capital review. The review is expected to report to ministers by the end of the year. More details of the review can be found in our press notice about the overhaul to England's school building programme.
DfE enquiries
Central newsdesk - for journalists 020 7783 8300
General enquiries - for members of the public 0370 000 2288
Published 30 November 2010