Partnership to support countries' maternal health plans
A groundbreaking international partnership to cut mother and child deaths in the developing world was announced by Andrew Mitchell today.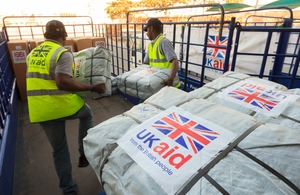 The UK will be joined by the US and Australian governments and the Gates Foundation in an alliance working with governments in developing countries to ensure their plans to save mothers and children's lives are delivered.
The alliance, which will be officially announced at the MDG Summit in New York tomorrow, will focus on the most off track Millennium Development Goals (4 and 5) - both of which cover maternal health - with a preliminary focus on family planning. The Alliance will seek to support a number of countries in sub-Saharan Africa and south Asia to achieve their ambitions.
It will offer wide-ranging support for countries' health plans - potentially ranging from supplying medicines and training midwives to building roads and improving access to new technologies - to plug gaps in the implementation of countries' health plans.
Maternal health is a major issue in the developing world. In Nigeria, for example, the lifetime risk of a women dying from complications due to pregnancy and childbirth is 1 in 23 compared to 1 in 4,700 in the UK.
New UN estimates are that in 2008, 50,000 women in Nigeria died from complications due to pregnancy and childbirth.
The US, UK, Australia and Gates Foundation Alliance will:
Work quickly to identify priority countries to work with;
Help countries to scale up successful work to increase access to reproductive and maternal services including family planning;
Support the global target to provide an additional 100 million people in the developing world with access to family planning;
Increase the number of births in developing countries attended by skilled midwives; and,
Improve access for mothers and newborns to high quality post-natal care. 
Partnership working between the UK and other donor agencies has already had an impact in the developing world. In many countries the UK works closely with other partners to design and implement health programmes. The alliance provides an opportunity to concentrate efforts around common goals and agreed priorities.
The alliance will welcome additional partners, such as other governments, foundations and NGOs, in each country were it works.  It hopes other international partners will join either globally or in specific countries in order to strengthen commitments to women and children's health in the poorest places.
Published 22 September 2010