News story
Partnership to help developing countries make the most of their natural resources
Extractives in resource-rich countries have a huge potential for growth, and if managed well, could ultimately end poverty.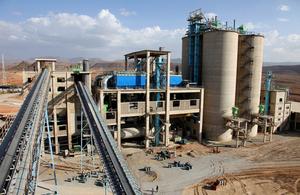 On 9 October, DFID announced that it will partner with the Natural Resource Governance Institute (NRGI) over the next 5 years, contributing £16 million to deliver improved governance of natural resources in 16 countries. This is part of a new £34 million economic development programme 'Releasing the Transformational Potential of Extractives for Economic Development' announced by the Secretary of State in July.
Support to external partners like NRGI will be an important part of delivering transformation in the extractives industry. David Kennedy, Director General Economic Development, launched DFID's support for NRGI at the panel event with the Minister of Mines of Guinea, civil society from Ghana and representatives from Tullow Oil and Rio Tinto, highlighting the need for companies, governments and civil society to seize opportunities that extractives offer to poor countries for economic transformation.
As well as being leaders in government transparency and accountability, internationally and in resource-rich countries, NRGI deliver training and policy advice for governments and civil society. They also provide analytical tools like the Resource Governance Index and Natural Resource Charter.
David also highlighted DFID's work on data - using information from transparency initiatives to help governments improve policy making, monitor the impact of reform and to give communities, parliamentarians and the media the tools to ask questions about how extractives are managed. DFID will support 'data pilots' in 5 countries which will be selected in the next few months.
You can follow NRGI on Twitter, Facebook and on Linkedin and catch event details on the NRGI Extractives Data Event page.
Published 13 October 2014