News story
Partner toolkits now available for National Apprenticeship Week
A range of National Apprenticeship Week toolkits are available to help partners get involved in the week.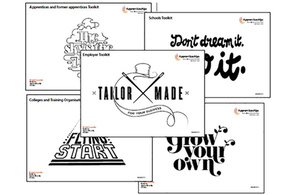 This year, National Apprenticeship Week runs from 9 to 13 March and, once again, we have created a range of toolkits for our partners to help you all get involved in the week.
The toolkits outline the theme for the week, share interesting facts about apprenticeships, and also give you advice and ideas about things you can do – such as holding events, getting your local MP involved in your activities, requesting a speaker from the Agency, or using social media more effectively.
There are toolkits especially created for all our stakeholders, so download whichever one is most useful to you – whether you are a college or training organisation; a school; a trade organisation; an apprentice (or former apprentice) or a business.
All the toolkits are available on our resources, tools and templates page.
Published 29 January 2015