Press release
Employers unveil new industry designed apprenticeships
Hundreds more top employers have joined the government's successful Trailblazers programme to design high quality apprenticeships.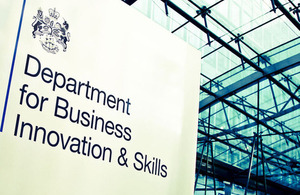 Hundreds more top employers have joined the government's successful Trailblazers programme to design high quality apprenticeships in everything from renewable energy to video games, Skills Minister Nick Boles has today (12 March 2015) announced.
More than 200 new employers have joined the 1,000 plus organisations already designing apprenticeships. The Trailblazer initiative allows groups of employers to join together to design apprenticeships that develop the skills of their current and future workforce. Today's announcement pushes the total number of Trailblazer groups to over 100.
The announcement comes alongside the news that existing Trailblazer groups have also today been given the green light to develop more apprenticeships including mortgage advisor and software developer.
Skills Minister Nick Boles said:
I am delighted to announce that these 200 new employers will be designing top quality apprenticeships.

Giving leading firms from British Gas to video games manufacturer Ubisoft the power to design and deliver high quality apprenticeships, means we can ensure more young people have the skills our economy vitally needs. Apprenticeships play a key role in the success of our long term economic plan and, with more than 2 million apprenticeships started since 2010, I am proud to say our reforms are delivering for businesses and young people.
The announcement comes alongside the news that more than 50 employer designed apprenticeships ranging from Boatbuilder to Chartered Surveyor to Outside Broadcast Engineer have been approved by the government, with some aiming to have their first apprentice starts as early as September 2015.
John McEvoy, Head of Production for PRG UK, leading a new Trailblazer in the Live Events Industry, said:
As suppliers to the live events industry we wholeheartedly support the idea of apprenticeships being developed by employers. Apprenticeships are an ideal route in to our sector, with on the job training allowing people to gain the skills they need to work with rapidly developing specialist technology.
Employers and apprentices will gather today at Elstree Film Studios in Hertfordshire to celebrate the hard work and success of those involved in the Trailblazer programme. The reception, held in partnership with the British Fashion Council and the Fashion Trailblazer, will see employers and apprentices in industries including finance and law showcasing their work and sharing best practice.
Aaron Coulson, New Talent Manager at National Grid who have been involved in the Trailblazer programme since October 2013 said:
Tackling the skills shortage crisis isn't just a challenge for National Grid, it affects the whole energy and utilities sector. The Trailblazer apprentice is a perfect example of Energy companies working together to find a solution for the industry as a whole, teaching specific skills to the required standard.
New research published today highlights the value of giving employers the power to design apprenticeships that can address the skills needs identified by industry. The research, which was collected via interviews with employers and other groups involved in the Trailblazer programme, shows that allowing employers to design new apprenticeships leads to a greater understanding of the skills and competencies that apprentices will gain and the relevance of these to their organisation as well as a greater trust in the quality of training.
Trailblazer case study
Started on the Power Network Craftsperson trailblazer apprenticeship with UK Power Networks in October 2014
Clea Yeates, 18, from Feltham, is one of 29 recruits chosen from 749 applicants to join UK Power Networks' popular trailblazer apprenticeship scheme. Over the next 3 years, Clea will prepare to join the skilled teams who keep power flowing to more than a quarter of Britain's population 24 hours a day. They specialise in overhead power lines (linesmen), underground cables (jointers) or electricity substations (fitters), gaining practical on-the-job training and nationally-recognised qualifications.
Clea said:
I wanted to be with a good company that had a good reputation. I studied electrical installations at college but didn't want to remain working on household electrics. I wanted to go bigger. It's always going to be different and the way the company is organised is really professional.
The apprentices shadow experienced staff, participate in a 24-hour standby rota and have a gradual introduction to field work. After they qualify, they can complete more advanced qualifications and can apply for the company's supported studies programme to advance their careers. Many former apprentices have progressed to become senior managers within the company.
Notes to editors
The 26 new trailblazers are to design apprenticeships in 35 occupations while existing Trailblazers have been approved to design a further 34 apprenticeships.
Today's announcement of 56 newly approved standards and 69 more in development takes the number of approved standards to over 120 and number of standards in development to over 150.
For more information on apprenticeships visit www.apprenticeships.gov.uk
The first 8 trailblazers began in October 2013. The standards produced by trailblazers will become the blueprint for apprenticeships in those occupations.
For a full list of standards approved so far visit Apprenticeship standards
For a full list of standards in development visit Apprenticeship standards in development
Apprenticeship progress report published today is available at Apprenticeship reforms: progress report
The department has also published today a statement of how we will ensure high quality in the new Apprenticeships
Join the conversation online using the hashtags #100ReasonsWhy #GetInGoFar # NAW2015
New Trailblazers launched today
| Trailblazer/Sector | Standard/Occupation |
| --- | --- |
| New Trailblazers |   |
| Thermal Insulation Engineering | Thermal Insulation Engineer |
| Visual Effects | Junior 2D Artist , Assistant Technical Director |
| Bespoke Tailoring | Tailoring & Cutting |
| Painting & Decorating | Decorative Finishing & Industrial Painter |
| Sea Fishing | Deckhand |
| Electrical and Electronic Appliances | Electrical, Electronic Appliance Servicing & Installation |
| Trade Business Services | Trade Business Services |
| Energy (Gas) | Gas Service Engineer |
| Farriery | Farrier |
| Events Industry | Events Management |
| Civil Engineering | Civil Engineering Technician |
| Power | Protection, Installation & Commissioning Technician |
| Video Games | Quality Assurance Technician/Analyst |
| Wood | Sawmilling |
| Children, Young People & Families | Children, Young People & Families Worker , Children, Young People & Families Supervisor , Practitioner in Residential Childcare , Manager in Residential Childcare |
| Renewable Energy | Biomass Installation Engineer |
| Ophthalmology | Ophthalmic Technician |
| Fabrication | Fabrication Welder |
| Papermaking | Papermaking Operator , Papermaking Technician , Papermaking Supervisor |
| Creative Industries | Creative Content Assistant |
| Construction & Engineering IT Systems | IoT & Cyber – Physical Systems (2 standards), Smart Systems Information & Security (2 standards) |
| Live Events | Live Event Technician |
| Live Events Rigging | Live Events Rigger |
| Saddlery | Saddler |
| Printing | Print Finisher, Prepress Operative and Printer |
| Smart Meter Installation | Smart Meter Installer (Dual Fuel) |
| Existing Trailblazers |   |
| --- | --- |
| Digital Industries | Digital Business Administrator, IT Support, Software Development Technician, IT Services & Sales Technician, Telecoms & Unified Comms, Business Analyst, Information & Cyber Security, Digital Business Specialist |
| Financial Services | Mortgage Advisor , Credit Controller |
| Nuclear | Nuclear Engineer |
| Food & Drink | Logistics Operator/Manager, Supply Chain Operator/Manager , Continuous Improvement Technician , Continuous Improvement Manager , Fishmonger |
| Accountancy | Assistant Accountant |
| Construction | Steelfixing , Lifting Technician |
| Maritime Defence | Maritime Pipeworker, Maritime Maintenance Mechanical/Electrical Mechanic , Maritime Fabricator, Maritime Electrical Fitter |
| Insurance | Insurance Professional |
| Earth Sciences & Geology | Extractive Plant Mobile Service Engineer , Mineral Products Weighbridge Operations |
| Aviation | Aviation Ground Specialist, Aviation Operations Supervisor, Aviation Operations Manager, |
| Early Years | Services Leader, Quality Improvement Leader, Health & Well-being Leader, Assistant Equalities Named Coordinator , Lead Equalities Named Coordinator |
Trailblazer standards approved today
| Trailblazer | Standard |
| --- | --- |
| Advanced Manufacturing | Machinist (Advanced Manufacturing Engineering) |
| Aerospace | Aerospace Engineer |
| Aerospace | Aerospace Software Development Engineer |
| Aerospace | Aviation Maintenance Mechanic (Military) |
| Aerospace | Survival Equipment Fitter |
| Airworthiness | Aircraft Maintenance Certifying Engineer (Fixed and Rotary Wing) |
| Airworthiness | Airworthiness Planning, Quality & Safety Technician |
| Boatbuilding | Boatbuilder |
| Building Services Engineering | Building Services Engineering Craftsperson |
| Building ServicesEngineering | Building Services Engineering Installer |
| Composites | Composites Technician |
| Construction | Digital Engineering Technician |
| Construction | Carpentry and Joinery |
| Construction | Advanced Carpentry and Joinery |
| Defence | Systems Engineering Masters Level |
| Dental Health | Dental Nurse |
| Digital Industries | Digital & Technology Solutions Professional |
| Electronic Systems | Embedded Electronic Systems Design and Development Engineer |
| Energy & Utilities | Gas Network Craftsperson |
| Energy & Utilities | Gas Network Team Leader |
| Engineering, Design & Draughting | Engineering design & draughtsperson |
| Facilities Management | Facilities Management Supervisor |
| Financial Services | Financial Services Customer Adviser |
| Financial Services | Investment Operations Administrator |
| Financial Services | Investment Operations Specialist |
| Financial Services | Investment Operations Technician |
| Financial Services | Senior Financial Services Customer Adviser |
| Financial Services | Workplace Pensions Administrator/Consultant |
| Fire & Rescue | Business Fire Safety Advisor |
| Furniture | Furniture Manufacturer |
| Healthcare | Healthcare Assistant Practitioner |
| Healthcare | Healthcare Support Worker |
| HM Armed Forces | HM Forces Public Services Operational Delivery (Uniformed) |
| Hospitality | Chef De Partie |
| Hospitality | Commis Chef |
| Hospitality | Hospitality Manager |
| Hospitality | Hospitality Supervisor |
| Hospitality | Hospitality Team Member |
| Housing | Senior Housing/Property Management |
| Life & Industrial Sciences | Laboratory Scientist |
| Management Consultancy | Junior Management Consultant |
| Maritime Defence | Maritime Mechanical Fitter |
| Nuclear | Nuclear Health Physics Monitor |
| Nuclear | Nuclear Welding Inspection Technician |
| Plumbing & DomesticHeating | Plumbing and Domestic Heating Technician |
| Public Sector | Public Sector Commercial Professional |
| Rail Engineering | Rail Engineering Operative |
| Rail Engineering | Rail Engineering Technician |
| Refrigeration Air Conditioning and Heat Pump (RACHP) | Refrigeration Air Conditioning and Heat Pump Engineering Technician |
| Retail | Retail Manager |
| Retail | Retail Team Leader |
| Security Management | Security First Line Manager |
| Surveying | Chartered Surveyor |
| Surveying | Surveying Technician |
| Transport | Transport Planning Technician |
| TV Production & Broadcasting | Outside Broadcast Engineer |
Published 12 March 2015