Parliament welcomes home 3 Commando Brigade
Following their return from Helmand province last month 3 Commando Brigade Royal Marines paraded through London to Westminster yesterday for a reception at the Houses of Parliament.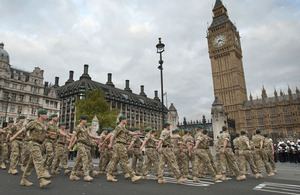 The purpose of the parade was for Members of Parliament to welcome home the troops and thank them for their efforts and sacrifices over their six-month deployment to Afghanistan.
Brigadier Ed Davis, Commander of 3 Commando Brigade, led the parade which consisted of troops from HQ 3 Commando Brigade, 45 Commando Royal Marines, 42 Commando Royal Marines, 30 Commando Information Exploitation Group Royal Marines, 29 Commando Regiment Royal Artillery, Commando Logistic Regiment Royal Marines, 24 Commando Engineer Regiment, the Medical Group and 101 (City of London) Engineer Regiment (Explosive Ordnance Disposal).
First to pay tribute was Brigadier Davis, who said:
It has been humbling to see the sacrifice and the professionalism of our people. Their humanity and their desire to reach out to the people of Helmand and their insatiable desire to make a difference has been inspiring.
Lieutenant Colonel Ewen Murchison, Commanding Officer of 42 Commando Royal Marines, said that after six-and-a-half hard months the parade offered the opportunity for the troops to see first-hand that the nation recognised their achievements:
It's a special day and it gives people the chance to talk to the guys and get more of an understanding of the challenges they have faced. It is a surreal experience. It's some years since I paraded as commanding officer, but to be here in London when we were in Afghanistan just a few days ago is strange.
But it shows the adaptability of the Royal Marines, how they can change so easily from being so recently on tour to being here to show off their drill skills on parade.
Lt Col Murchison said that being back was a relief to friends and families and he paid tribute to the support that his Marines had received while they were away, especially from the public in Plymouth:
That support is a tremendous help, especially during the dark days. We had seven killed in action, but seeing the joy on the faces of everyone when we arrived at Brize Norton was very uplifting.
This was Lt Col Murchison's second tour, his first was on HERRICK 5 in 2006-07:
It was a different experience," he said. "The progress made is remarkable. The Afghan National Security Forces have advanced a long way from the very limited capability they had three years ago.
The Colonel said the tour was typified by two great successes - the suppression of the traditional summer fighting season which encouraged the growth and influence of the government, and the transfer of several checkpoints to Afghan authority:
The Afghans love to see the physical presence of a checkpoint [CP], it gives them confidence. I had 33 CPs and we transferred authority for 12 of them, which are now solely run by the Afghans. The next battle groups will continue that process.
This was the third deployment to Afghanistan for Lance Corporal Ash Swinard, also of 42 Commando. He said he had been looking forward to the parade.
LCpl Swinard was injured by an IED four months ago while on patrol around Nad 'Ali (North). Although this meant several operations and a below-the-knee amputation, he described his injury as quite straight forward, and nothing more than a scratch:
I was standing on both feet when it happened, so it was a straight forward wound. It's amazing to be back," he said. "I spent a month in hospital in Birmingham. This parade has been my goal; I was determined to attend this and of course the medal ceremony in Plymouth next week.
Marine Harry Butcher, from 42 Commando, also on parade yesterday, enjoyed his tour, his first, even though he too was injured in a rocket attack:
I came back injured, unfortunately a few of the guys have, but it was a great experience, I learned a lot.
Marine Butcher was injured four-and-a-half months into his tour:
My left leg was torn by shrapnel and there was a lot of nerve damage. It's quite challenging when you get injured, because it stops you doing what you want to be doing, which is helping out your mates. It's frustrating when you don't know what's going on and you don't know what they're up to.
Due to his injuries, Marine Butcher returned to the UK in September 2011 and said he had been looking forward to the parade all week:
It's good being back with the lads. It's a weight off your shoulders when you know they're back safe. This parade is good because it gives people the chance to find out what we've been doing and to show their support.
But has the experience of being wounded changed the way he feels about his military life? Has it put him of the idea of going back to Afghanistan?
Definitely not," he said. "Even when it happened I knew 100 per cent I wanted to go back there. That's the good thing about the Armed Forces, they take such good care of you.
Published 1 November 2011