Parliament welcomes 20th Armoured Brigade home from Helmand
Armed Forces personnel recently returned from Afghanistan paraded through Westminster yesterday and attended a reception at the Palace of Westminster.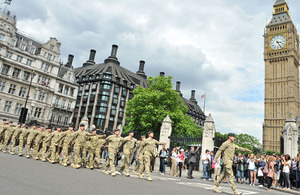 Invited by MPs from the All Party Parliamentary Group for the Armed Forces, personnel from 20th Armoured Brigade marched from Wellington Barracks along Birdcage Walk and into Parliament Square before attending the reception at the Palace of Westminster.
20th Armoured Brigade was the lead formation of British troops in Helmand on Operation HERRICK 15 from October 2011 to April 2012.
At the event, Minister for the Armed Forces, Nick Harvey, said:
I was proud to have the opportunity to welcome 20th Armoured Brigade back from their tour in Afghanistan at the Palace of Westminster. We must take every opportunity to show our appreciation for their efforts and remember those who did not come home. Their sacrifices will not be in vain.
Transition of security responsibilities in Helmand from our forces to the Afghans is on track and this is thanks, to a large extent, to the great work that was done over the course of 20th Armoured Brigade's tour.
Like those who served before them and their successors in Afghanistan today, they worked tirelessly to develop their Afghan colleagues whilst fighting to keep up the pressure on the insurgency.
Their aim was to propel us further down the path towards a secure Afghanistan, where terrorism cannot return - it is an aim that they achieved and which continues to be built on by the men and women of our Armed Forces deployed there today.
During their deployment 20th Armoured Brigade continued the development of the Afghan National Security Forces and assisted them in working towards taking full responsibility for their country's national security and the long-term fight against terrorism within its borders.
Significant steps forward were made during Op HERRICK 15 in the handing over of key security responsibilities to the Afghan National Army and Afghan National Police.
During the six-month deployment 20th Armoured Brigade saw the process of transition of responsibility for security to the Afghans continue in Lashkar Gah district and begin in Nad 'Ali district.
Other key achievements of the deployment included 35 Engineer Regiment building the longest single-span bridge since the Second World War, the securing of a number of key trade routes, and the building and opening of two schools.
Sadly, 20th Armoured Brigade sustained the loss of 25 of its personnel during the six-month deployment.
The Brigade was replaced by 12th Mechanized Brigade as the lead formation of British troops in Helmand province in April 2012.
Published 20 June 2012