Press release
Parliament Week 2016: Minister meets school children in Manchester
Minister for the Constitution Chris Skidmore spoke to school children today in Manchester about the importance of politics and the democratic process.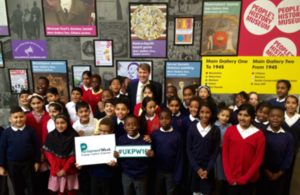 For this year's Parliament Week the Minister for the Constitution left Westminster to meet and inspire the young people of Manchester.
Primary school students from across the city visited the People's History Museum and were greeted by Chris Skidmore, Minister for the Constitution.
For the minister's visit, more than 60 primary school students from Crowcroft Park Primary, Holy Name Primary and Manchester Muslim Preparatory School were invited in for a talk from the minister and were then taken on a democracy-themed tour around the museum.
This year the People's History Museum has teamed up with organisations including the Political Studies Association, the Parliamentary Outreach Service and Regional Asylum Activism. They are running activities such as creating your own Chartist-style petition and learning about women in democracy.
Parliament Week is a programme of events and activities that connects people with the UK Parliament. Organisations across the UK run events and activities throughout the week which explore what Parliament means to them and their community.
Chris Skidmore, Minister for the Constitution, said:
I would like to thank the staff at the People's History Museum for putting on a great event. It was heartening to see so many young people taking a real interest in democracy and how the parliamentary process works.

Young people are an important part of our democracy, and this government is committed to improving the participation levels of young people in the political process. Events like Parliament Week are an excellent way to get them involved.
Janneke Geene, Director, said:
The People's History Museum tells the story of the development of democracy in Britain over the last 200 years starting with a display on the Peterloo Massacre which took place locally in 1819. Through our learning programmes and exhibitions at the museum we aim to engage young people with democracy from an early age so that they can grow up to be informed and active citizens. We therefore believe we are the natural place to celebrate Parliament Week.

This is the fifth year we have organised events for Parliament Week and this year we are delighted to be welcoming the Minister for the Constitution along with 6 local primary schools and one secondary school.
Published 15 November 2016