Press release
Paris trade event to promote French markets to Welsh companies
Welsh Secretary hosts trade mission to France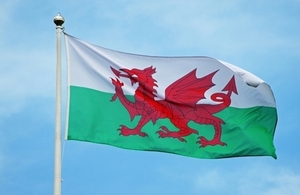 The Secretary of State for Wales David Jones MP and Her Majesty's Ambassador to France Sir Peter Ricketts will host SMEs from across Wales at a trade event at the British Embassy in Paris on Thursday 13 March 2014.
The 'New Horizons' trade event, held in partnership with UK Trade and Investment (UKTI) will provide an overview of the French market and the legal aspects of working and trading in France, as well as insight in to the business and cultural differences between British and French markets.
Eighteen Welsh companies from multiple sectors will be represented, from outdoor clothing specialists to recruitment companies.
The afternoon of events will include presentations by companies who have entered in to the French market successfully, including Nick Pearce-Tomenius the Managing Director of Object Matrix, Andy Kirk from Quartix Ltd and Diane Larramendy from LeLynx.
There will also be a reception in the evening hosted by Sir Peter Ricketts where the Welsh companies present can network with representatives from French companies across the French industrial market.
Commenting ahead of the event Welsh Secretary David Jones MP said:
Creating the right environment for businesses to thrive has always been at the heart of this Government's economic policy, and the resulting economic growth the UK is experiencing is proof that our long term economic plan is working.
The UK is in a global race, and Wales has an important role to play. It is important the Government helps wherever it can to support businesses, both large and small, to export their products and expertise around the world.
UKTI have a vital role to play in this, and their involvement in this event is crucial to its success. I would urge Welsh businesses to make the most of the support available from UKTI, as well as the UK and Welsh Governments, so that the private sector in Wales and across the UK can continue to prosper.
Also speaking ahead of the event, Nick Pearce-Tomenius from Object Matrix, said:
Object Matrix provides secure and trusted nearline storage to global media companies and broadcasters. Our strategy of starting local in Wales but thinking global was greatly enhanced with help from the former International Business Wales, who enabled us to reach key influencers within the French market place. Thanks to that assistance, our revenue increased by 30 per cent with the addition of M6 and France Télévisions as customers in the territory. I am excited to be speaking at the reception in Paris as it will strengthen ties with our existing French customers and provide the opportunity to forge new and long-lasting relationships.
Also speaking ahead of the event, Andy Kirk, Sales and Marketing Director at Quartix Limited, said:
I'm delighted to be attending the event. Quartix has been operating in France since 2010 and has a lot of experience in meeting tracking and telematics requirements for the French market. It is a very competitive market and the standard of service offered has to be exceptionally high in order to compete effectively. I look forward to sharing experiences with other like-minded businesses.
Diane Larramendy from LeLynx, a speaker at the event, said:
I'm looking forward to sharing our experience as a Welsh company having set up an operation in France. LeLynx.fr is the French subsidiary of Confused.com, the insurance price-comparison website based in Cardiff. We are now a leader of the market here in France and a very happy company.
Similar trade fairs for businesses in Wales looking to expand overseas are planned in the coming months.
Image courtesy of Cloudsurfer_UK on Flickr
Published 12 March 2014