Parental child abduction - know the law
Take your child abroad without the permission of the other parent and you may be committing child abduction under UK law, warns the Foreign Office.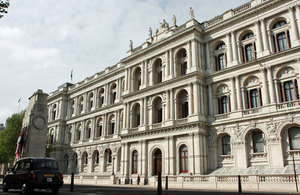 Incidents of international parental child abduction - where a child is taken overseas without the other parent's consent or contrary to a court order - are expected to peak over the summer, according to the FCO's Child Abduction Section.
In many cases, parents pretend they are going on holiday with their child to their country of origin and then fail to return.
Worryingly, it is also common for parents not to realise that they have committed a child abduction offence. Research recently commissioned by the FCO* showed that a third of people didn't know that if you take your child abroad without the permission of the other parent, this may be considered abduction under UK law.
The FCO's Child Abduction Section handled over 200 new cases between April 2009 - March 2010. Many of these involved abductions to countries that have not ratified the 1980 Hague Convention** where parents can face great difficulties getting their children returned. There was a 39% increase*** in cases of British children being abducted to non-Hague countries, particularly Pakistan, India, Thailand, Nigeria and Ghana.
Jeremy Browne, Foreign & Commonwealth Office Minister for Consular Policy, said:
"International parental child abduction, whether intentional or not, can cause huge distress to families.
"If a parent wishes to take their child to live in a new country they will normally need either the permission of the other parent or the British courts. Cases of parental child abduction increase in the summer holiday period. We urge parents who are worried to get specialist legal advice and contact our Child Abduction Section and the charity Reunite which can provide them with information to try to prevent an abduction from happening in the first place, or to try to resolve disputes if a child has already been taken overseas.
"We also see cases where British nationals simply return to the UK with their child after their relationship breaks down whilst living abroad - this is still likely to be considered abduction. A parent will normally require the consent of the other parent and possibly permission from the courts of the country concerned. It is important that a parent obtains legal advice before taking any action."
If you are worried that your child may be abducted overseas you should:
Seek advice from a family lawyer and request a Prohibited Steps Order (or equivalent depending on where you live in the UK) prohibiting your child from being taken out of the UK
In the event of an imminent abduction (in the next 24-48 hours), contact the police who may be able to issue an All Ports Alert to try to prevent a child from leaving the UK. The police in England and Wales do not need a court order before instituting a port alert. Police in Scotland do need a court order.
Ensure that you keep their child's passport in a safe place and contact the Identity and Passport Service (and relevant local embassy if your child has dual nationality) to request that another passport is not issued without your permission
**Contact the Child Abduction Section at the Foreign Office on 0207 008 0878
**
Contact the Reunite International Child Abduction Centre on 0116 2556 234
For further information on how the Foreign Office Child Abduction Unit can help, see International parental child abduction.
Map showing Non-Hague countries with highest number of new British child abduction cases April 2009 - March 2010. Click to view larger image.
Published 28 July 2010