Paratroopers partner Afghan warriors
Lieutenant Jonny Mortimer-Hendry from D Company, 2nd Battalion The Parachute Regiment, on his first tour of Afghanistan, is leading his team in northern Nad 'Ali, to partner and help develop their Afghan counterparts.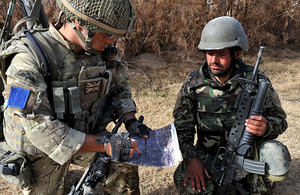 Soldiers from 2nd Battalion The Parachute Regiment (2 PARA) are currently working in partnership with warriors from the Afghan National Army (ANA) in the northern Nad 'Ali area of Helmand province to expand their essential and ever-increasing role in providing security and governance in Afghanistan.
Overall, NATO's International Security Assistance Force (ISAF) is currently making excellent progress in growing the ANA, with 149,000 warriors already fully-trained across the country, which makes them well on track to achieving the target of 171,600 by the end of 2011.
2 PARA's partnership with the ANA requires the British troops to spend 24-hours-a-day with their Afghan colleagues as they work to instil in the ANA warriors the courage and mentality of the paratrooper.
Lt Mortimer-Hendry said:
24/7, my guys and myself are living with the Afghan National Army, and every day we're doing tasks with them. Whether it be finding certain personnel, destroying IEDs or moving through the Green Zone, we do every aspect of the job with the Afghan National Army as partners.
Living with these guys 24/7, you get to know them really well. We've picked up the lingo quite easily, and having a joke and a laugh, even if you don't speak the same language, means that you have that common bond while being here to do a job.
Creating a strong relationship with their Afghan counterparts is a major part of the partnership for the British soldiers, and building on the existing strengths of the ANA soldiers makes working together more productive.
Lt Mortimer-Hendry explained:
They are formed as a unit and come down here and we work intensively with them on all patrols and on all checkpoints as well. It's important to build on their skills, so they can mimic us in the way we do business in this area.
Working with them is a challenge, but the important thing to have from day one is the relationship. Building on that relationship and building the trust between us is the most important criteria to working with the Afghan National Army.
The mentoring process is paying dividends, as the successes of the partnership are obvious:
We're either in the checkpoints or we're on patrol and we've found multiple IEDs," said Lt Mortimer-Hendry.
We've been in a lot of contacts and the Afghan National Army really come into their own with ground sign and in a contact; they're very courageous and adopt the mentality of a paratrooper in that sense and we destroy the enemy where we can.
In addition to the progress being made within the ANA, Afghan National Police recruitment and training is also ahead of schedule.
Published 7 February 2011