News story
Paratroopers endure attacks during exercise
A group of paratroopers has been on the receiving end of verbal abuse and petrol bombs as part of their training as the Army's global rapid reaction force.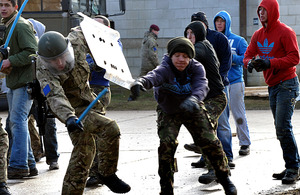 Troops from 2nd Battalion The Parachute Regiment (2 PARA) have been taking part in public order training as part of Exercise Eagle's Banner in a mock village at the Stanford Training Area in Norfolk.
The training is designed to add to the soldiers' skills as 2 PARA prepares to be the lead unit in the Airborne Task Force (ABTF) from May.
The troops learned how to work together to both defend each other and drive back hostile crowds. The week-long training package culminated in a large disturbance with fellow soldiers taking the role of rioters.
The battalion - supported by artillery, engineers, medics and logisticians from 16 Air Assault Brigade - will be ready to deploy anywhere in the world at short notice to conduct tasks ranging from non-combatant evacuation operations to war-fighting.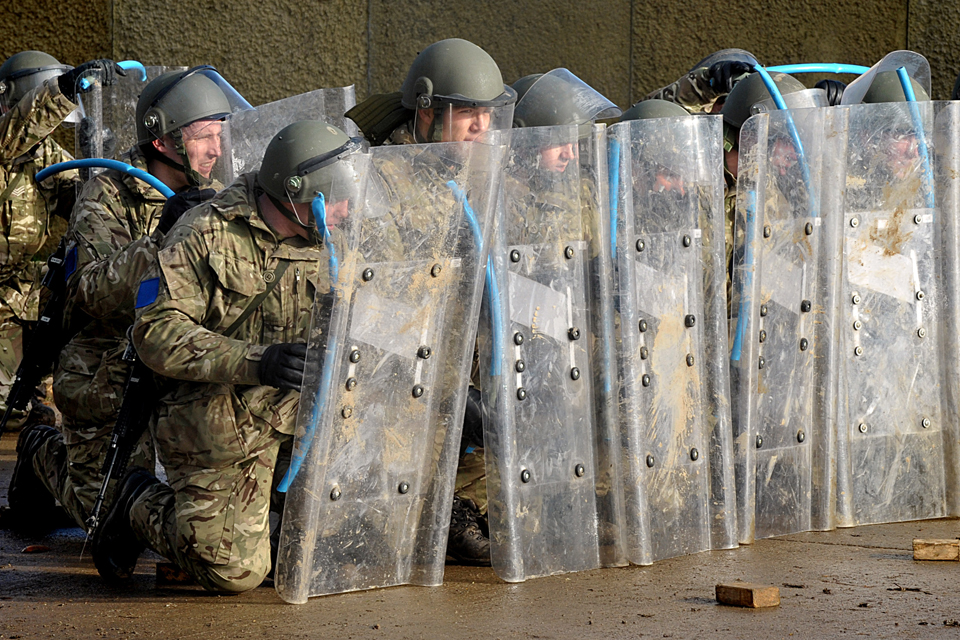 Major Markis Duggan, Officer Commanding B Company, 2 PARA, said:
Training in public order is an essential part of our preparations for contingency operations. Public disorder has been an enduring theme of military operations in recent years, with the British Army facing unruly crowds in Sierra Leone, Kosovo and Iraq, and we need to develop the appropriate skills.
The lessons that have been learnt from experience and by our soldiers this week are that it's important to respond proportionately to public disorder, maintain discipline under pressure, and take control before a situation gets out of hand.
Negotiation skills are important for commanders but, when necessary, you have to be able to escalate to using controlled non-lethal force with batons and shields.
Sergeant Nick Pugh said:
The key to dealing with public order situations is situational awareness, controlled aggression and good communication skills. It's the first time doing this for many of our soldiers and it's been a steep learning curve that they've coped with brilliantly.
16 Air Assault Brigade is the British Army's largest brigade with 7,400 soldiers, combining the speed and agility of airborne and air assault troops with the potency of Apache attack helicopters.
The brigade deployed to Afghanistan between October 2010 and April 2011 and since its return has focused across a number of commitments, most significantly its core role as the ABTF, ready to deploy on operations anywhere in the world at short notice.
Published 18 February 2013