Paratroopers build on urban combat skills
Paratroopers from 3rd Battalion The Parachute Regiment (3 PARA) have been practising the urban combat skills they might need as part of the Army's rapid reaction force.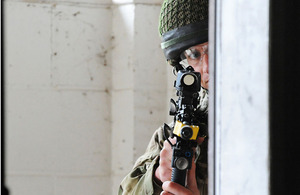 Exercise Bayonet Strike, which took place in Suffolk this week, has honed the compound clearance skills developed by B Company, 3 PARA, during their deployment to Afghanistan in 2010/11.
The skills are key to 3 PARA's current role in the British Army's Airborne Task Force (ABTF), which is ready to deploy anywhere in the world at short notice, for anything from disaster relief to war-fighting.
The training took place at Rock Barracks in Woodbridge, where buildings have been specially adapted for house-to-house fighting. Over the three-day exercise, troops practised entering and searching buildings, working up to securing and entering a complex of buildings to detain identified enemy personnel.
The training built on the intelligent targeting methods developed by Colchester-based 3 PARA, who are part of 16 Air Assault Brigade, for operations in the Nad 'Ali (North) area of Helmand province.
The approach focused on using intelligence and surveillance to identify the structure of insurgent networks and local communities, with the information used to precisely target individuals and groups to undermine the insurgent threat.
Intelligent targeting helped 3 PARA make progress in improving security in the area, enabling the Afghan Government to reach local people and build their confidence in an alternative to the Taliban. The tactics, techniques and procedures have since been studied by ISAF to share with forces operating across Afghanistan.
Major Geoff Hargreaves, Officer Commanding B Company, 3 PARA, said:
Our skills from Afghanistan are about capturing rather than killing a targeted individual and they are useful to maintain for 3 PARA's current role in the ABTF.
Operating inside buildings places troops in a very complex physical and human environment.
We are going into pitch-black buildings that could have any number of obstacles placed inside and can be heavily defended with a small number of people. At the same time, there could be innocent civilians alongside enemy forces.
This is fighting amongst the people, and limiting damage and civilian casualties is a key consideration to avoid alienating communities we are trying to help.
Private Ross Ellison described the tactics learnt by troops as 'more about sneaking into a building than barging in':
It's about controlled aggression and using stealth to maintain the initiative, so the enemy aren't aware where we are and what we're doing. If we go in firing, killing civilians and damaging their property we are only creating more enemies," he said.
Published 3 May 2012