Paras provide security for local shura
British soldiers marked a security success this weekend by facilitating a district governor's shura - a traditional Afghan public meeting - in the previously troubled town of Showal.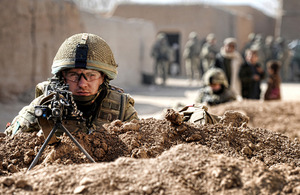 Paratroopers from A Company, 3rd Battalion The Parachute Regiment (3 PARA), along with their partners from the Afghan National Army, ensured security was safeguarded for District Governor Habibullah to speak to an audience of almost 250 local people.
The tone was positive throughout from the charismatic leader. In the recent past, this sort of event would not have been possible, but now down to the hard work of the British and Afghan forces operating in this area, normal life is beginning to resume and clear signs of progress are being seen.
Although security is continually improving, there is still a need for an ISAF presence while the process of training the Afghan security forces continues. The threat from the insurgents still exists and without the security element provided by 3 PARA and their Afghan partners, shuras like this one would not happen.
Lieutenant David Donnelly, 3 PARA spokesman, said:
The men of 3 PARA have quickly forged a reputation amongst local people in the area as the 'fearless warriors'. The people talk of how they fight the insurgents and 'don't fall back, always going forward'.
Locals are particularly pleased that their own soldiers and police officers are benefiting from training and mentoring from the 3 PARA troops and other British forces, whose ability they respect.
One local Afghan male commented at the shura:
Two months ago it was not possible to go down the streets safely but now people are out, children are playing and people regularly commute on the main roads. This is only possible because of the fearless warriors who wear the green patch.
Prior to the main shura, District Governor Habibullah visited the site of a proposed school-build to finalise the plans.
Published 17 January 2011