Paras outbox Marines for charity
Paratroopers were pitted against Commandos as the British Army's airborne infantry and the Royal Navy's soldiers-at-sea stepped into the boxing ring.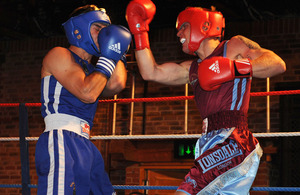 The Parachute Regiment boxed against the Royal Marines in a charity match in the City of London on Tuesday 18 September, with the Paras winning a hard-fought contest by five bouts to three.
More than £40,000 was raised at the event, held at The Brewery in Chiswell Street, which will be split between the Parachute Regiment's Afghanistan Trust and the Royal Marines Charitable Trust Fund.
In front of a passionate and vocal crowd of military and civilian supporters the match was tied at the halfway stage, but was won in the end by the Paras who were victorious in the last three bouts.
Captain Steve Marr, boxing officer for the Royal Marines, said:
It was a fantastic occasion, with the boxers well-matched and every bout closely contested. The crowd had their loyalties but were very fair, giving each boxer a standing ovation.
I congratulate the Paras on their victory, but the event wasn't really about winning or losing, it was about raising money for two very worthy causes.
Colin Smith, Chief Executive of the Afghanistan Trust, said the atmosphere at the event matched 'the fierce rivalry but mutual respect' between the two units.
He added:
The Paras and Marines each think they're the best soldiers and try and prove it through sport or on exercise, but each would pick the other to be beside them on the battlefield.
The boxing was very competitive and made for an excellent event to support the charities, with talk of a rematch already in the air.
Both the Paras and Marines provide the infantry spearhead for the rapid reaction forces maintained by the Army and Royal Navy respectively. Colchester-based 2nd and 3rd Battalions The Parachute Regiment form part of the Air Assault Task Force, while the Royal Marines provide troops for the Response Force Task Group.
Highlights of the Paras versus Royal Marines boxing event will be shown on Thursday 27 September on Sky Sports 1's 'Boxing Ringside' programme at 1900hrs.
Published 26 September 2012