Paras lay down fitness challenge to public
The public is being offered the chance to take on a true test of military fitness in Colchester.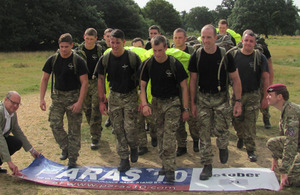 The 'PARAS' 10' is taking place in Colchester for the first time this autumn. The event is a 10-mile (16km) run open to the public and can be completed as a cross-country race in trainers or as the 'P Company Challenge', wearing boots and carrying a 35-pound (16kg) rucksack.
With a target finishing time of under one hour 50 minutes, the challenge replicates one of the key fitness tests for the Parachute Regiment and Airborne Forces.
The PARAS' 10 has been run at Catterick, where Parachute Regiment recruits train, since 2008, and this year's event takes place on Sunday 9 September. But more than 300 people have already signed up for the first Colchester event on Sunday 21 October.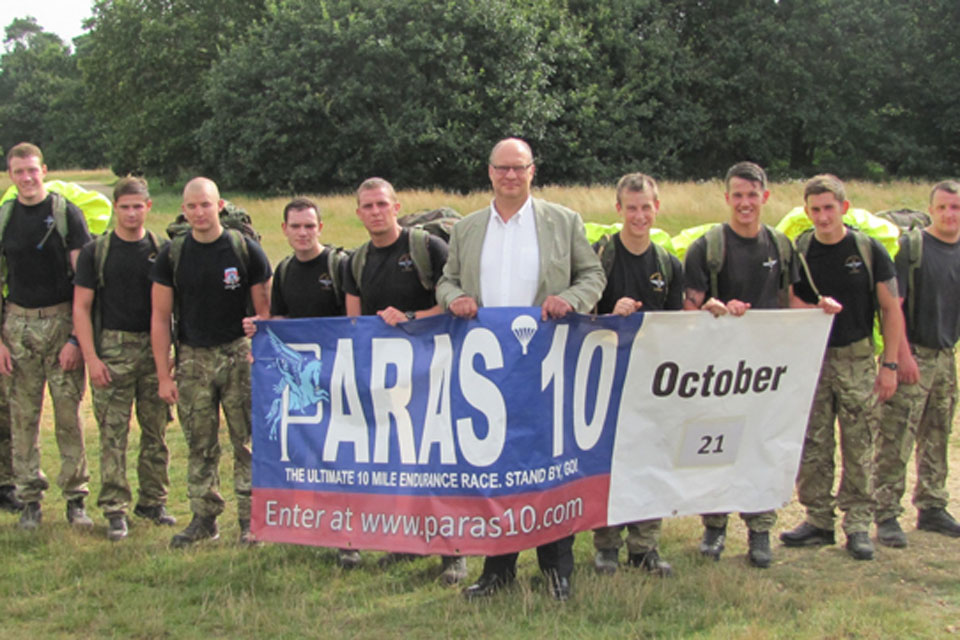 Organiser Captain Dominic Burn, from 2nd Battalion The Parachute Regiment (2 PARA), said:
The ten-miler is a benchmark measure of fitness for our soldiers. It is a key part of P Company, which is the selection process for recruits to airborne units, which we do regularly in the battalion.
Troops from 2 PARA ran the Colchester route to test that it met the necessary standard of toughness and the message to all those interested in taking part is 'come and have a go if you think you're fit enough!'
Captain Burn added:
The route goes from Abbey Field to Friday Woods and back, taking in hills and water obstacles that will be familiar to Colchester-based soldiers and present a real challenge to runners. All our soldiers have hit that one hour 50 minutes target, but people are free to take as long as they need.
All profits from entry fees will go to the Parachute Regiment Charity, which supports Paras and their families who are in need, but runners are free to collect sponsorship for any charity.
Stephen Cooper, Director of the Parachute Regiment Charity, estimated that the Catterick event has so far raised £1m for a wide range of charities. He said:
We were keen to bring the PARAS' 10 to Colchester, as the home of the Parachute Regiment and Airborne Forces. At Catterick we've collected more than £350,000 for military charities from proceeds and sponsored runners, but thousands of people have run for other charities and raised hundreds of thousands of pounds more.
Among those already signed up for Colchester are people raising money for hospices and cancer charities.
The Parachute Regiment Charity's work includes helping with travel and accommodation for relatives visiting wounded soldiers in hospital and organising activity days for families during operational deployments.
Published 22 August 2012