Paras and Afghan warriors join forces
Troops from 3rd Battalion The Parachute Regiment (3 PARA) have begun working with a new unit of Afghan National Army (ANA) warriors who arrived at their base a few days ago.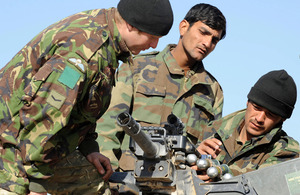 The newly-bolstered joint ANA and British force, already fully integrated, is intended to drive forward efforts to stabilise security in the northern Nad 'Ali area.
The British and Afghan troops are already learning from each other, with the Brits passing on their elite soldiering skills while the Afghans share their crucial knowledge of the local terrain and population.
Now, out on patrol, the Afghans are also being familiarised with the various weapon systems that the British paratroopers use against the insurgency.
Lieutenant David Donnelly said:
Over the last few days, since arriving, the ANA soldiers have been fully integrated into the battalion, with the soldiers living and working side by side, building the relationships that are so key to success in this environment.
Captain Graham Brady of the Scots Guards, an officer working with the Brigade Advisory Group, the British unit responsible for overseeing ANA development, said:
I've been really impressed by how naturally the 3 PARA soldiers have taken to partnering. They've got some big characters, with the confidence and personality to bridge the language and cultural divide.
The success of our, and subsequent tours, will be judged not necessarily by what damage we can do to the insurgent but by how well we set up our Afghan partners for success.
The ANA have been operating in these areas for years in some cases; they pick up on local dynamics much faster than British or other ISAF soldiers can.
This working relationship and the ability of the ANA to pick up and affect local dynamics was evident on the new partnered force's first patrol.
The two armies worked hand in hand to set up a checkpoint in the local area where the ANA took the lead by taking control of the operation, integrating with the locals and providing the security element to the area.
Published 10 January 2011