Paralympic medal winner thanks RAF coach
A Royal Air Force sergeant has had the honour of raising a Paralympic Union Flag at the Olympic Stadium for a medal-winning Team GB athlete she coached five years ago.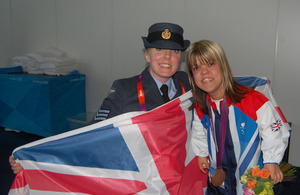 Sergeant Ann Thomas, a senior non-commissioned officer of the Survival Equipment Section at RAF Marham, is amongst a group of personnel from the RAF who are acting as flag-raisers for the London 2012 Games. Their role is to raise the national flags for each of the athletes who finish events with gold, silver or bronze medals.
In January 2007 Sgt Thomas helped establish the Suffolk Spartans Powerlifting Club as part of a county sports initiative to promote sports for the disabled, disaffected adults, excluded youngsters and minority groups within the community.
A young athlete called Zoe Newson was a member of that club and was coached by Sgt Thomas. Last week, the same Miss Newson went on to win the bronze medal in the 40kg class of the women's powerlifting at the London 2012 Paralympic Games.
Sgt Thomas and Miss Newson trained and worked together for two years. During that time, with Sgt Thomas's guidance and encouragement, Miss Newson went on to win a number of national events and the Junior World Championships, as well as competing at the Commonwealth Games in India.
Subsequent postings with the RAF, both at home and abroad, saw Sgt Thomas leave Miss Newson in the hands of the other coaching staff but fate was to reunite them at the London Games with Sgt Thomas's selection to the ceremonial teams.
After Miss Newson's success in her class last week, it was down to Sgt Thomas to carry the Union Flag, which was then raised to salute the bronze medal winner. The experience proved to be an emotional one for both women.
Sgt Thomas said:
It was fantastic to see how far she had come in the last few years and there was no shortage of encouragement from the ceremonial team backstage as well as the huge crowd out front.
It was an incredible honour to raise the national flag for a GB athlete but even more special to know that I had a part in it. She thanked me for her success but I simply told her that it was all her and she deserved everything she had earned.
Sgt Thomas is an accomplished athlete in her own right, having seven powerlifting world championships under her belt.
All of her successes are for weights between 55kg and 63kg. In addition to her worldwide accolades, Sgt Thomas also achieved first place in the RAF championships and was crowned Sportswoman of the Year by the Combined Services Sports Board in 2009.
Published 6 September 2012