Paralympic legend backs troops on Armed Forces Day
One of Britain's most successful Paralympians of all time, Baroness Tanni Grey-Thompson, is encouraging people to go and support troops on next week's Armed Forces Day. Report by Lorraine McBride.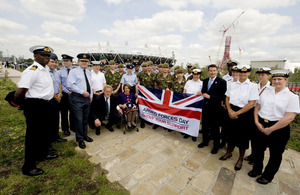 As a teenager, Tanni, a tireless supporter of the Armed Forces, became a member of the British Wheelchair Racing Squad, and, over the course of five Paralympic Games, racked up a total of 11 gold medals.
She helped launch the donation of ten-thousand 2012 Olympic tickets to Service personnel and their families at the London 2012 Olympic stadium, (see Related News).
Her support for the Armed Forces is no doubt influenced by the memory of her own beloved granddad, who fought for his country, and, with Armed Forces Day around the corner on 25 June 2011, Baroness Tanni was keen to encourage others to go and support troops. She said:
I think Britain is an amazing country - to live in a democracy that has a huge amount of freedom is what our troops continually fight for.
"Armed Forces day is hugely important. I think it's a very small way of saying that we recognize what people do. In my life, Poppy Day was a big deal in our house, but over time it has got a lot bigger, and now the recognition has spread beyond that so that troops are appreciated for the whole year, and I think that is hugely important."
Tanni's maternal grandfather, William Jones, served in the First World War in the Welsh Regiment.
Tens of thousands of British 'Tommies' perished in the Somme, yet, against the odds, William Jones survived the gruelling war and many years later, his granddaughter, Tanni visited Ypres battlefields, a moving experience she described as, "one of the most emotional things I've ever done."
William spoke very little of his war years, according to Tanni:
We know he fought in Sanctuary Wood, but he never talked about it to us, other than derisively calling it, 'Some bloody sanctuary!'
More recently, Tanni has got to know many ex-servicemen, following the seriously injured through their shared love of Paralympian sport.
As a top sportswoman, Tanni is articulate and accustomed to dealing with the media. But, ask her for her impression of the troops that she meets, and she takes a moment to reply:
I'm not sure that humbling is quite the right word…" she begins, "I think it's hard to find the right words.
What young people do for their country is not something I could do. I know the fact that people are putting their lives on the line for Britain.
I find it quite emotional and I don't think it's just because of my granddad. It's hard to even talk about it actually.
"I don't want to be soppy, but it's amazing that nobody makes anybody join up, but the fact is, people do. The media has changed over the years and now, we see a tiny part of what people experience in Iraq and Afghanistan. It is just incredible that people do that."
As the mother of a young daughter, Carys, aged nine, Tanni says she would have no qualms if the youngster opted to join the Armed Forces when the time comes to choose a career:
Absolutely," nodded Tanni. "It is really good training, then there is the discipline, fitness and learning to take orders," she joked.
Tanni is vice patron of the Women's Division of the British Legion and SAAFA:
It is really important to me, particularly the chance say thank-you," she said with conviction.
Two years ago, Tanni and her family enjoyed a day out at a local Armed Forces day celebration in Tower Bridge, packed with stalls, displays and marching bands:
It was a great chance to talk to the guys about what they do, about where they have been and what they have been doing and find out about their lives and families.
Tanni was particularly struck by an airmen who told her that he had yearned to join the RAF from a tiny toddler:
Everything he did was based around his dream," said Tanni, who said that she readily identified with his burning ambition to serve his country, albeit in entirely different fields.
He was quite calm, but he went through every single thing he did, and he loved every single thing," said Tanni adding, "It was lovely.
For more on Armed Forces Day, visit the official website at Related Links.
Published 16 June 2011