World news story
Paralympic legacy and disability rights
Paralympic legacy and Disability Rights: What Thailand can learn from the UK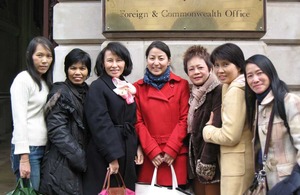 After Thailand's success in the 2012 Paralympics, the British Embassy Bangkok and Thailand's National Office for Empowerment of Persons with Disabilities (NEP) started a dialogue on sharing experiences of disability issues.
NEP Secretary-General Napa Setthakorn met with British Ambassador Mark Kent to exchange views on how Thailand and UK could work together on the issue. The British Embassy Bangkok then hosted a visit to the UK for NEP to discuss policy and projects for people with disabilities. They met private and government agencies including FCO, Channel 4, Sport UK, Social Enterprise UK and Disability Rights UK.
Mark Kent, British Ambassador to Thailand, said,
on behalf of the UK government, I am delighted to work with NEP on disabilities. The UK's Paralympic Legacy focuses on transforming the perception of disabled people in society, supporting opportunities to participate in sport and other activities and promoting community engagement. This is happening through the network of public and private sectors
One good example is Channel 4. Awarded the broadcast rights for the 2012 Paralymic Games, the Channel, apart from building awareness of the Games, set objectives to change attitudes to disability sport and challenge attitudes to disability more generally. In 2010, Channel 4 started its nationwide talent search for disabled presenters/ reporters. They provided intensive training for those selected. After the Paralympic Games, some of the presenters and reporters signed contracts with the Channel.
Napa Setthakorn, NEP Secretary-General, said:
We have learned a lot from FCO policies for disabled people such as job posting, job matching, training and counselling to make the employment sustainable. We then realised that as well as recruiting disabled workers it was important to ensure they were happy at work. Access to work depends on creating a friendly environment. The presentation by FCO during our meeting showed clearly how we can change the workplace to ensure access for people with disabilities.
The representatives from NEP also visited Social Enterprise UK and discussed widely on how to adapt the idea to the work in Thailand. NEP representatives stated that the idea and knowledge gained from the visit will be discussed with their colleagues in ASEAN countries in May when they have a meeting in Phuket on social enterprise for disabilities.
Published 11 March 2013