Para musician visits brother's Helmand memorial
The musician sister of a British paratrooper who lost his life in Afghanistan in 2008 recently made a pilgrimage to her brother's Helmand memorial during a brief tour of Afghanistan.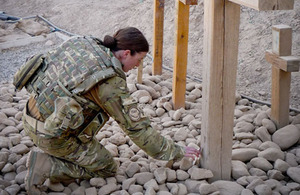 Reservist soldier Private Joe Whittaker of 4th Battalion The Parachute Regiment was killed by an improvised explosive device while serving in Helmand as part of the 2nd Battalion The Parachute Regiment Battle Group.
His sister, Kate Whittaker, from Stratford-upon-Avon, plays violin, viola and guitar with the Band of The Parachute Regiment. She auditioned for the Corps of Army Music three weeks before Private Whittaker died on 24 June 2008.
VIDEO: BFBS: British soldier's visit to brother's last battlefield
She was on the whirlwind tour of Afghanistan as part of the Band when she finally got the chance to visit her brother's memorial:
Joe had wished me well for the audition, he was so chuffed I was following him into the Army, he would have hated for me not to join up because of what happened to him," she said.
The idea for Musician Whittaker to see the memorial was suggested by Major Sherrington, Joe's Commanding Officer at the time of his death.
Musician Whittaker said:
It finally brings all the pieces together for me. It felt weird as I knew my mum would be lighting a candle where Joe's ashes are buried at St Andrew's Church in Stratford at the same time as I was at his cross in Helmand.
Musician Whittaker added:
It's amazing to see that Joe's cross is still there and not forgotten about. It brings a certain amount of closure for me and feels like a weight has been lifted. In some way it feels like I was doing it for all the families.
Musician Whittaker's journey began when the Band of The Parachute Regiment flew into Camp Bastion in early December. Captain David Hammond, the Band's Director of Music, conceived the idea for the trip. He said: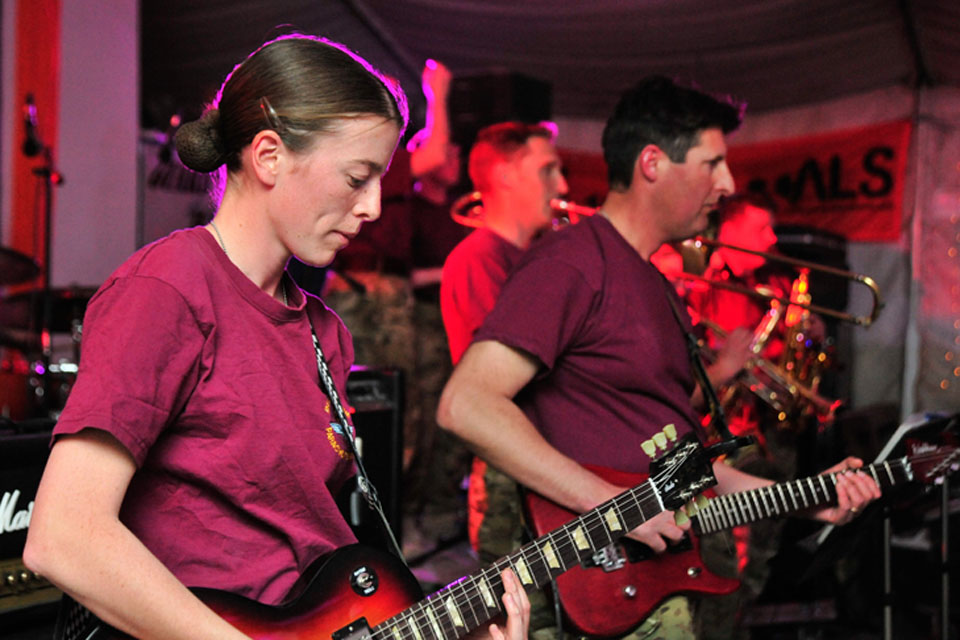 We have all really enjoyed the trip. It has been so diverse and very rewarding. We have played requests down the radios to guys on sentry duty and we have played in band contests, but the highlights have been working with the Afghan Army band and of course being able to get Kate to see her brother's memorial, which was just fantastic.
I've really enjoyed this trip to Afghanistan," said Musician Whittaker.
It's the least we can do to distract the lads from what they have to go through every day and it's gigs like the ones we have done out in the forward bases that make the difference and it really is what our job is all about.
The Band of The Parachute Regiment's first trip to Afghanistan has seen them cover the length and breadth of the country over six weeks. Playing at venues such as HQ ISAF (International Security Assistance Force), the British Embassy, and Checkpoint Tapa Paraang, Band members found themselves involved in foot patrols and sangar duties, and helping to train their Afghan counterparts.
Published 3 February 2011