Papal visit will highlight shared international priorities
Lord Patten has spoken to London-based foreign correspondents about the Papal visit, which takes place from 16 to 19 September 2010.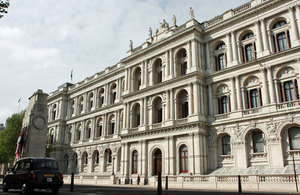 Lord Patten is the Prime Minister's Representative for the Papal visit. He was joined at the briefing by the Archbishop of Westminster Vincent Nicholls, Department of Energy & Climate Change (DECC) Minister Lord Marland, and Department for International Development (DFID) Permanent Secretary Manouche Shafik. It was an opportunity to highlight the key international objectives the UK government shares with the Holy See: poverty reduction and climate change.
An historic, global event
Lord Patten said the visit will be "not only a great British event, but a great European and Commonwealth event." He emphasised its historic nature - this is the first ever official Papal visit to the UK. The Pope is visiting at the invitation of Her Majesty the Queen, unlike in 1982, when the visit by Pope John Paul II was purely pastoral.
Lord Patten also remarked that "we welcome the head of a church which represents about ten per cent of citizens of this country and who represents over a billion people around the world. Secondly we're welcoming somebody whose church works closely around the world in pursuit of social equity and sustainable development."
The perspective of the Catholic community
Archbishop Nichols thanked the British Government for their assistance in planning the visit and noted that whereas the focus of John Paul II's visit was the UK Catholic population, Pope Benedict XVI has been invited to address the whole of UK society. He said the visit would also underline the importance of faith in society at a personal and community level, and that the Catholic community was "looking forward to it immensely."
Shared international priorities
Lord Marland and Minouche Shafik highlighted the shared objectives of the Government and the Holy See in tackling climate change and poverty. Lord Marland said the Holy See is showing great leadership on climate change, highlighting the work the Vatican is doing to become the first carbon neutral state.
The visit in September takes place just before the Millennium Development Goals (MDGs) Summit in New York. Minouche Shafik highlighted this as a real opportunity for world leaders to take concrete action to achieve the goals, and noted the extensive work of Catholic development organisations in providing education and healthcare in some of the poorest countries in the world.
Published 1 September 2010