Papal visit details announced
Lord Patten of Barnes, the Prime Minister's Special Representative for the Papal visit, and the Archbishop of Westminster Vincent Nichols, Head of the Catholic Church in England and Wales, have announced further details of Pope Benedict XVI's visit.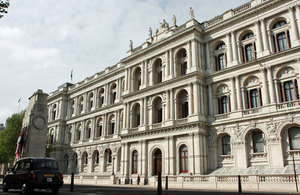 The Pope's visit to the UK, from 16 to 19 September, is at the invitation of Her Majesty The Queen and is the first official Papal visit to the UK. Pope John Paul II made a purely pastoral visit in 1982, but this visit will combine pastoral events - where the Pope will engage with the Catholic faithful of the UK - and a range of official events.
Pope Benedict will meet The Queen at the Palace of Holyrood House in Edinburgh, as well as making a major speech in Westminster Hall to an audience of civil society and members of both Houses of Parliament. During the visit, there will also be bilateral discussions between senior Ministers of the British government and the Holy See.
On the pastoral side, the centrepiece of the visit will be a mass of Beatification of Cardinal Newman - the penultimate step before papal recognition of sainthood.
The visit is an unprecedented opportunity to strengthen ties between the UK and the Holy See and build on our shared work and goals internationally. The UK and the Holy See share a commitment to international development and the eradication of poverty, and a conviction of the need for urgent action to address climate change. The Vatican City is on track to be the world's first carbon neutral state, while UK Prime Minister David Cameron has said he wants this Government to be "the greenest Government ever".
Lord Patten remarked that the Coalition Government is 'honoured' that the Pope is making the first official Papal Visit to the UK, and mentioned our shared priorities, particularly with regard to international development. Archbishop Nichols commented on the historic nature of the visit and noted that Pope Benedict is 'profoundly looking forward' to coming to the UK.
There will be significant benefits to the UK as a result of the visit, not least the deepening of our strong relationship with the Holy See, and the development of shared policies and work on global issues.
Published 22 July 2010