Pancakes are flippin' good training for Navy chefs
Trainee chefs undergoing their professional training at HMS Raleigh have been learning how to rustle up a family favourite in preparation for Shrove Tuesday, or Pancake Day, today, Tuesday 21 February.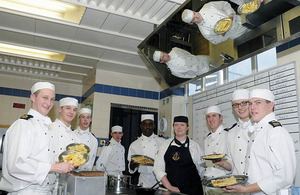 Last week, the 12 trainees, who are part way through a 26-week course at the Defence Maritime Logistics School, spent time learning how to make the perfect pancake under the guidance of their instructor, Leading Chef Clare Broadbent, who has 14 years' experience of being a Royal Navy chef.
Leading Chef Broadbent said:
During training we teach the trainees the basic culinary skills and techniques they require for when they join their first ship or submarine.
At sea we follow tradition, and most ships will cook pancakes for Shrove Tuesday. It really contributes to the morale on board, especially if the ship is deployed.
Depending on the class of ship, the chefs could be making between 500 to 600 pancakes, so it's important the trainees learn how to do this during their course.
The Defence Maritime Logistics School is part of the tri-Service Defence College of Logistics and Personnel Administration.
Within its facilities at HMS Raleigh the school offers a range of professional training to members of the Royal Navy, Royal Naval Reserve and Royal Marines, as well as Royal Fleet Auxiliary personnel.
Published 21 February 2012