Pakistani girl shot by Taliban travels to UK for medical treatment
Malala Yousafzai, a 14 year old girl shot by the Taliban in Pakistan last week, is being evacuated to the UK for specialist medical care.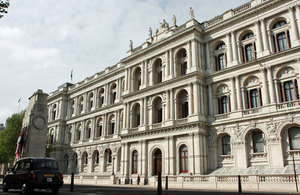 The evacuation was arranged by the Pakistani authorities after an assessment by the medical team treating Malala. It follows an offer by the UK Government to assist Malala in any way that we could.
This morning a Pakistani Government flight carrying Malala and a medical team left Rawalpindi. On her arrival in the UK Malala will be transferred to an NHS hospital where she will receive specialist medical care.
The Foreign Secretary, William Hague, said:
"Last week's barbaric attack on Malala Yousafzai and her school friends shocked Pakistan and the world. Malala's bravery in standing up for the right of all young girls in Pakistan to an education is an example to us all.
"Malala will now receive specialist medical care in an NHS hospital. Our thoughts remain with Malala and her family at this difficult time.
"The public revulsion and condemnation of this cowardly attack shows that the people of Pakistan will not be beaten by terrorists. The UK stands shoulder to shoulder with Pakistan in its fight against terrorism."
Published 15 October 2012