Pakistan and its international partners meet to discuss floods assistance and economic recovery
Foreign Secretary William Hague and Parliamentary Under-Secretary of State for International Development Stephen O'Brien attended the Friends of Democratic Pakistan (FoDP) meeting in Brussels today.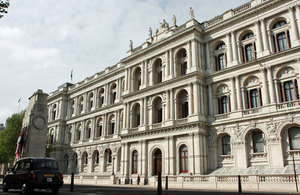 The third ministerial meeting of the Friends of Democratic Pakistan (FoDP) was co-hosted by EU High Representative for Foreign Affairs and Security Policy and European Commission Vice President Catherine Ashton and Pakistan Foreign Minister Shah Mahmood Qureshi.
The meeting focused on the aftermaths of the floods (humanitarian assistance, recovery and reconstruction), and a longer term comprehensive approach to reform (economic recovery, trade, institution building and administrative reforms).
The FoDP is a political forum established in September 2008 in the margins of the UN General Assembly in New York, bringing together countries and multilateral institutions committed to supporting a democratic Pakistan in its socio-economic development. The UK is a founder member.
Last week the European Commission also adopted proposals to reduce tariffs on Pakistan imports to the EU. Welcoming the announcement, Foreign Secretary William Hague said:
'For Pakistan to recover from the floods and address its many challenges it needs the active support of its friends. Britain will remain one of the staunchest of champions of Pakistan's democratic future.' Read full statement
Published 15 October 2010