Painting by Spanish Old Master Murillo in export bar
The Culture Minister has placed a temporary export bar on a painting by the Spanish artist Murillo.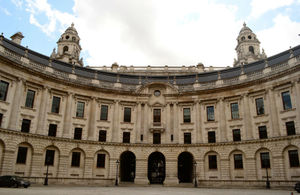 This will provide a last chance to raise the money to keep the painting of The Virgin and Child in the United Kingdom. 
The Minister's ruling follows a recommendation by the Reviewing Committee on the Export of Works of Art and Objects of Cultural Interest, administered by the Museums, Libraries and Archives Council (MLA). The Committee recommended that the export decision be deferred on the grounds that the painting is of outstanding aesthetic importance. 
Bartolome Esteban Murillo (1617-1682) was one of the greatest artists of the Spanish Golden Age, popular with his contemporaries for his religious imagery, portraits and genre paintings. He made numerous versions of the Virgin and Child, but in most of them the figures look straight out towards the viewer and the effect is often regarded as overly sentimental. This early work is a particularly fine example of the same subject which is unique because of the tender way in which the figures gaze at each other, giving it an intimacy lacking in the later works. The Christ Child seems to be comforting his mother in a poignant premonition of his fate. The beautifully-lit figures have a strong sculptural presence, forming a graceful 'S'-curve against the dark background.
Professor David Ekserdjian, Reviewing Committee member, said:
"Although there are already quite a few paintings by Murillo in UK public collections, most of them are later in date. There is an emotional seriousness about this early work which raises it above almost all Murillo's other paintings of the same subject."
The decision on the export licence application for the painting will be deferred for a period ending on 18 September 2010 inclusive. This period may be extended until 18 January 2011 inclusive if a serious intention to raise funds with a view to making an offer to purchase the painting at the recommended price of £3,000,000 is expressed.
Anyone interested in making an offer to purchase the painting should contact the owner's agent through:
 
The Secretary
The Reviewing Committee on the Export of Works of Art and Objects of Cultural Interest
Museums, Libraries and Archives Council
Grosvenor House
14 Bennetts Hill
Birmingham
B2 5RS
Telephone 0121 345 7428
Published 19 July 2010