Padre reflects on Paras' Afghan experiences
The Reverend Robin Richardson, currently deployed to Afghanistan with 3rd Battalion The Parachute Regiment, here reflects on some of the experiences his soldiers face on the battlefield and the benefits of talking.
At one of our patrol bases last week many of the lads were involved in an operation in an area in which we are still facing a high level of resistance.
They had been out on the ground for nine hours when they were contacted by heavy machine gun fire from a tree line just a couple of hundred metres away. Forty kilogrammes of kit per man, and tired after hours on the ground, yet their reactions were as sharp as they always are.
They returned fire, got themselves into cover and fought the battle. It was afterwards when everyone was back at the patrol base and brews had been drunk that I sat and chatted with Dave - or 'Shanky' as he is known - and Phil.
Dave joined the Army 17 years ago and is full to the brim with banter and self-confidence. But a couple of months back I saw, in a time of rare transparency, the man that has made Dave such a fine medic and such great company.
When an old man brought his grandson into camp, scared of the insurgent repercussions of his doing so, Dave poured such care, attention and compassion on the little lad and the old man that I found it hard to speak.
The lad had lost a leg in an insurgent improvised explosive device explosion a year back and he had an infection in the stump. There was silence in the medical centre as the doctor and Dave did what they could for the brave little fellow, even finding him a colouring book.
There was just the slightest squeak and a determined grimace when the infected area hurt as they tried to pinpoint the problem. And all the time the sad but grateful eyes of the old man looked over his charge as he waited.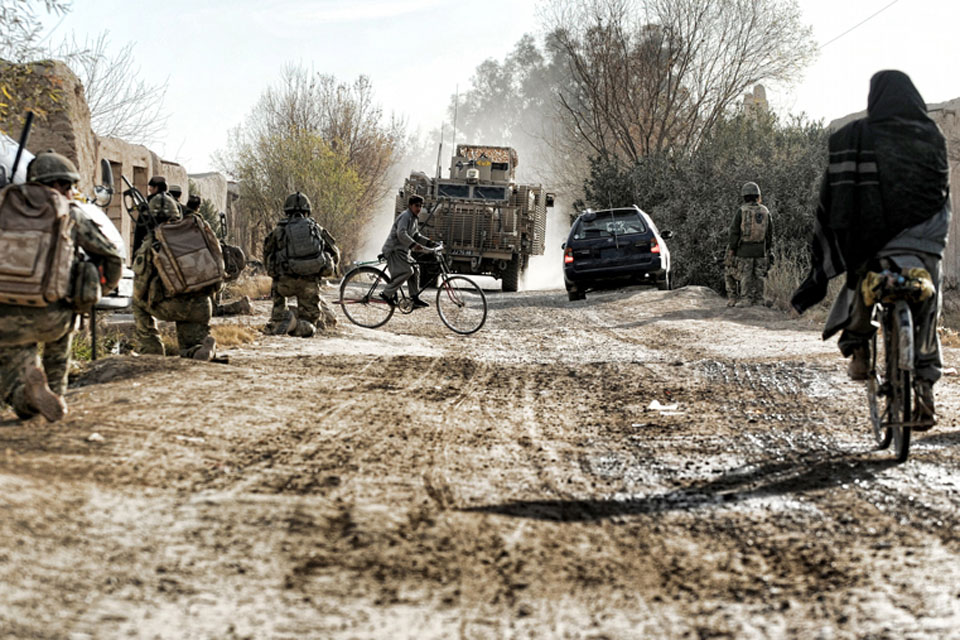 When the treatment was over I was invited in to meet the couple. When the interpreter explained to the grandfather that I was a Christian religious leader, he smiled, and stood, and held my hand tightly as we shared a moment - inconvenient to those who would divide and hate and judge, but which celebrated the many, many things we held in common in that moment:
He says he is glad to meet you and is very grateful for the care your doctor has shown the boy," the interpreter said, echoing the quiet, deep, almost lyrical words of the old man.
I am honoured to meet you, and this very brave young man," was all I could muster in reply.
Whilst we were speaking, Dave had found some strong glue and was fixing his young patient's shoe. His silence throughout speaking volumes.
As the little lad was carried to the gate by Hugh, so strong the little lad was no weight in his arms, Dave took a deep breath, grinned, shrugged his shoulders and in an instant was back to his public self.
But I know what I had always suspected and the blokes in the unit have experienced time and time again - Dave is a hugely compassionate man.
As Dave, Phil and I sat on our camp cots, it was Dave who spoke first:
That was just a bit too close," he said.
He looked at Phil, a sniper, and on his third tour of Afghanistan.
I could taste the lead," Phil replied. A 7.62mm round from the insurgent machine gun had whistled past his face so close that it had filled his senses.
Too, too close.
There was the grin that excitement brings on Phil's face, but behind it was the story of a man who had known 'close' before. He reached for the chain around his neck. On it two items hung, one a St Christopher, the second a misshapen round:
That's the one that got me in the plate in 2006, Padre. Too close, not that much fun.
We talked about the whole of the patrol, from me standing on the helicopter landing site with them in the middle of the night to see them off, to the various tasks they had completed during the day, to the contact itself, and then to this time of pulling it together, of remembering, reflecting, reviewing. It helped everyone involved to process what they had been through in the context of the whole day, the wider tour, and even their life and career in the Army.
I have seen too often people's lives held captive by a single event. It can be that a few minutes, or seconds even, can be the reference point from which they view themselves and the world, far beyond the reach you might expect.
Talking about it seems to help though; friends and colleagues can bring a greater, wider perspective to something that could otherwise become all-encompassing.
Sometimes the talk can turn to God and faith and purpose, but often it doesn't. The process, however, is cathartic and always worthwhile. It is a funny thing, but in a world that seems so enthusiastic about the gossip of 'he said this' and 'she said that' and of the cringing details of celebrities' lives, I wonder whether what we could really do with is talking a little bit more about our own experiences; how we have seen things that affect us; how perhaps our perspective is not the only one; how we feel as a result.
It is the essential process of knowing and being known, of relationship, of feeling what we do and who we are is valued; which is, of course, also at the heart of a living, active faith.
Phil and Dave did not dwell on the events of the day and we certainly didn't get all analytical about things, but we shared some time and some laughs and a few excitements and in doing so much more than the sum of the words. And then it was to doss bags and some well-earned kip, because for these lads, it would be the same again tomorrow.
Published 18 February 2011