World news story
Paddington Bear story writing competition: we have a winner!
Several stories were sent, but Paddington Bear's Letters created by Luciana Espinoza, from Colegio Peruano Británico, took first prize.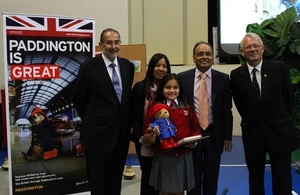 Paddington Bear stories have touched many people along the years in the UK, making this little bear a classic character from English children's literature. Thanks to Paddington Bear, millions of British children heard about Peru for their first time. We wanted to make it work the other way around too, with Paddington Bear helping Peruvians learn more about the UK.
That is why the British Embassy, in close collaboration with the British schools in Lima, organised a Paddington Bear story-writing competition. Children between 8 and 10 years old from the different schools sent their stories, and Karen Jankel, daughter of Paddington Bear's creator, Michael Bond, chose Luciana as the winner. Ambassador Anwar Choudhury presented her prize in an Assembly at Colegio Peruano Británico, after Luciana and her classmates performed a spectacular play based on the winning story.
We are glad to share with you Luciana's winning story, three letters from our furry hero to his aunt Lucy.
Published 1 September 2016