News story
Package of measures announced to help improve resilience of Southern network
Transport Secretary Chris Grayling announces measures to improve running of the Southern network.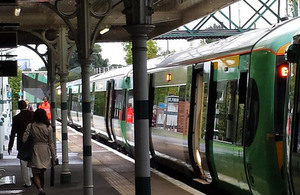 Changes to improve the performance of the Southern network and train services and restore passenger confidence were today (1 September 2016) announced by the Department for Transport.
Transport Secretary Chris Grayling confirmed a package of measures including a £20 million fund and the appointment of one of Britain's most experienced rail industry figures to help get the service back running as it should.
Chris Gibb will head a new project board, working with the train operator, the Department for Transport and Network Rail, to explore how to achieve a rapid improvement to services for the public. The board will oversee the £20 million fund and closer working between GTR and Network Rail to improve performance for Southern customers.
A passenger representative will also be included on this review board to ensure commuters' views are heard and improvements properly reflect passenger demands. The project board will present this plan in the autumn and actions will be implemented as soon as possible.
The £20 million fund will tackle problems on the line placing more rapid response teams on the franchise, accelerating the replacement of worn track, and hiring extra staff at key stations including East Croydon and Gatwick to make sure trains get away on time.
The package of measures follows unacceptable disruption for passengers in recent months, with many of the current issues caused by ongoing industrial action by the RMT as well as unofficial disruption and guards going off sick.
The government is also clear that GTR and Network Rail must work together to resolve issues earlier and ensure a better service for passengers.
Transport Secretary Chris Grayling said:
I want the Southern network to be run by a team of people who work together to make sure passengers get decent journeys and that problems are dealt with quickly. This review will suggest how we achieve a joined up approach to running the train and tracks and make things work better for the public.

We also need to get to grips with things that go wrong on this part of the network. That is why we are putting in place a £20 million scheme to tackle the cause of breakdowns that too often cause frustrating and damaging delays on the network.

I now urge the industry, the train operating company and unions to work together to improve services for passengers.
Chris Gibb said:
I look forward to helping the rail industry improve the passenger experience on the Southern network. Committed railway people across the industry work hard round the clock to provide the best possible service to a growing number of passengers, during a time of much needed major investment. I will bring together the energy of these people to find ways to improve the delivery of this service in the short and medium term.
Key additional benefits of the £20 million include:
£2 million to be spent on more rapid response teams to fix faults more quickly, located close to known hotspots
£2.5 million to be spent on accelerated train maintenance
£0.8 million investment in extra signal supervisors to keep trains moving across the network
£0.9 million investment in a series of measures to minimise the impact of bridge strikes
Chris Gibb's appointment is a further sign of the government's commitment to improve services for passengers. Gibb has worked in key leadership roles in rail industry for more than 35 years and is currently a non executive director at Network Rail. He was previously chief operating officer of Virgin Rail Group, responsible for all aspects of the delivery of Virgin's operations on the West Coast main line.
Rail media enquiries
Media enquiries 020 7944 3021
Out of hours media enquiries 020 7944 4292
Switchboard 0300 330 3000
Published 1 September 2016