Overspeed at Sandy South Junction
Investigation into an overspeeding incident at Sandy South Junction, Bedfordshire, 19 October 2018.
This news article was withdrawn on
This item has been moved to the National Archives as RAIB has published its report describing this incident. See report 10/2019.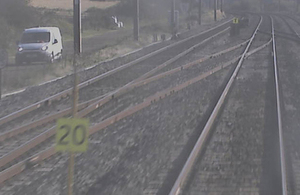 At around 14:32 hrs on 19 October 2018, an LNER service from Aberdeen to London's King's Cross passed through an emergency speed restriction of 20 mph at approximately 120 mph (193 km/h).
The emergency speed restriction had been applied at around 13:50 hrs on the previous day because track maintenance staff had found a defect (a crack) in a crossing, part of a set of points. Marker boards and associated automatic warning system (AWS) magnets were in place to provide warning of the emergency speed restriction and denote where the restriction commenced and terminated. The driver of the train had not received any notification of the existence of the emergency speed restriction prior to the journey.
No injuries were caused and no damage was recorded to the train, which continued to London King's Cross.
Our investigation will establish the sequence of events. It will also consider:
factors influencing the actions of the driver
the rules and procedures applicable to the application, implementation and advanced communication of speed restrictions, including the ways in which train drivers are made aware of the existence of emergency speed restrictions
any relevant underlying management factors
Our investigation is independent of any investigation by the railway industry or by the industry's regulator, the Office of Rail and Road.
We will publish our findings, including any safety recommendations, at the conclusion of our investigation; these will be available on our RAIB website.
You can subscribe to automated emails notifying you when we publish our reports.
Published 27 November 2018