News story
Overspeed at Fletton junction
Investigation into an overspeed incident at Fletton junction, Peterborough, 11 September 2015
This news article was withdrawn on
This item has been moved to the National Archives as RAIB has published its report describing this incident. See Report 14/2016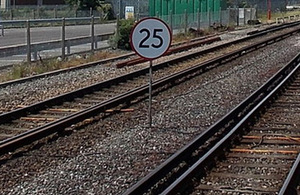 RAIB is investigating an incident that occurred at around 17:10 hrs on 11 September 2015, in which the 14:25 hrs passenger service from Newcastle to London King's Cross passed over Fletton junction at around twice the maximum speed permitted at this location. Although the train did not derail, the motion of the train caused minor injuries to three members of staff and one passenger.
The train was formed of nine passenger coaches with a driving van trailer leading, and a locomotive at the rear providing motive power.
Approaching Peterborough station, the train was running around 20 minutes late and it stopped in platform 1 at Peterborough to allow another service to overtake it using the up fast line. When the train departed Peterborough station, it ran on the up slow line towards Fletton junction, about 1 mile south of the station, where the up slow line merges with the up fast line. Initially, the train proceeded slowly because the signal protecting Fletton junction remained at danger.
Once the signaller cleared the route through Fletton junction and the junction protecting signal changed to a proceed aspect, the driver accelerated and the train reached a speed of 52 mph (83 km/h) as it ran over the points onto the up fast line. The maximum permitted speed for trains running from the up slow line to the up fast line at this location is 25 mph (40 km/h).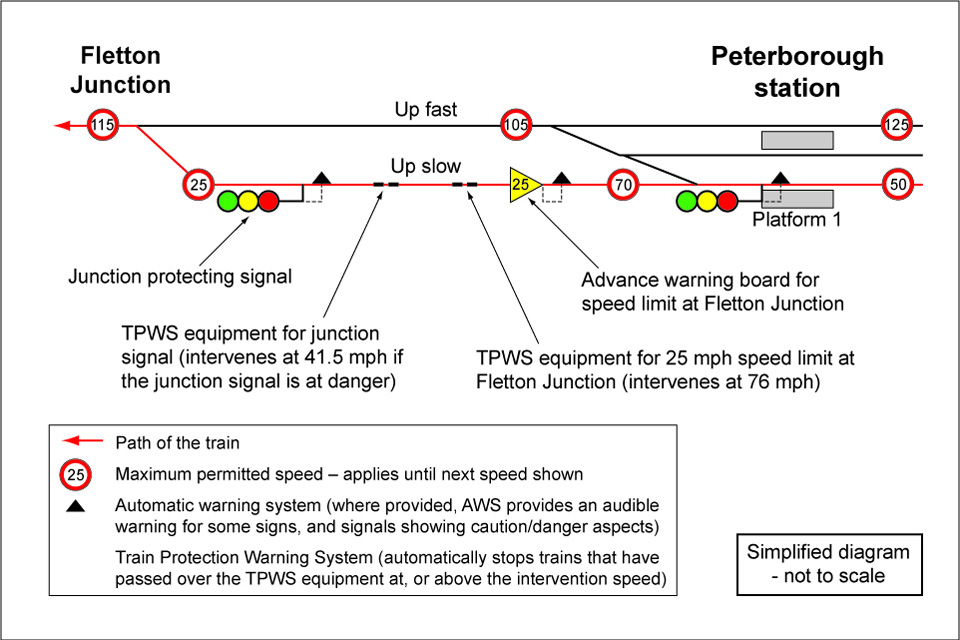 The maximum permissible speed over the up slow line between the south end of platform 1 at Peterborough station and Fletton junction is 70 mph (113 km/h). A warning sign and audible warning are provided on this length of track to warn drivers about the 25 mph speed restriction over the connection between the up slow line and the up fast line. This length of track also includes Train Protection and Warning System (TPWS) overspeed sensor equipment intended to limit the speed of trains as they approach Fletton junction.
Our investigation will include examination of:
the actions of the train driver
route knowledge and route risk assessments for the up slow line between Peterborough station and Fletton junction
the layout and design of the signalling equipment and speed restrictions on the up slow line between Peterborough station and Fletton junction.
It will also examine any relevant management issues and consider previous relevant recommendations made by RAIB.
Our investigation is independent of any investigation by the railway industry or by the industry's regulator, the Office of Rail and Road.
We will publish our findings, including any recommendations to improve safety, at the conclusion of our investigation. This report will be available on our website.
You can subscribe to automated emails notifying you when we publish our reports.
Published 20 October 2015