Press release
Overseas Territories Joint Ministerial Council
FCO Minister Mark Simmonds welcomes leaders of the Overseas Territories to London for summit meeting on action to support jobs and growth.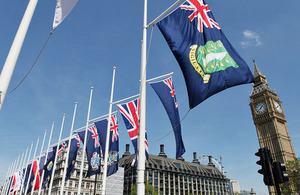 This year's Overseas Territories Joint Ministerial Council (JMC) will focus on economic growth and diversification; attracting investment; employment and vocational education; renewable energy; international financial services regulation; and the relationship between the Territories and the European Union.
The Council will review progress made on the commitments from the 2012 Council and discuss and agree future priorities.
Territory representatives will also have meetings on health; the environment; visas and passports; and criminal justice issues.
Mr Simmonds will also open a major UK-Overseas Territories Business Forum on 28 November in London. The event will bring together, for the first time, all the Overseas Territories with UK businesses and investors of all sizes, to explore the numerous exciting investment opportunities available in the Territories.
Speaking ahead of the meeting Foreign Office Minister for the Overseas Territories Mark Simmonds said:
I am delighted to welcome back the leaders from the Overseas Territories to the second Joint Ministerial Council. We have achieved much by working in partnership towards our shared vision for the Territories as vibrant and flourishing communities, in line with our 2012 White Paper of the Territories.

Jobs and economic growth are fundamental to building safe, successful and sustainable territories. This year's JMC will focus on agreeing practical steps for the UK and Overseas Territories to work together to achieve that goal.
Further information
Read more about the Overseas Territories Joint Ministerial Council
Follow Foreign Office Minister Mark Simmonds on twitter @MarkJSimmonds
Follow the Foreign Office on twitter @foreignoffice
Follow the Foreign Office on facebook and Google+
Published 25 November 2013