Press release
Overnight closures of the M1 and M6 at Catthorpe, Leicestershire
There will be a number of overnight closures as part of the M1 junction 19 improvement at Catthorpe, Leicestershire, in the coming week.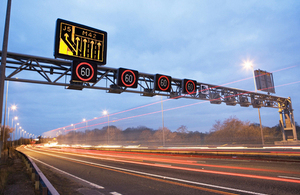 Tonight (Wednesday 23 April) the M6 southbound exit slip road to the A14 will be closed from 9pm to 6am with traffic diverted via the M1 southbound to junction 18 where it will turn around and return on the northbound carriageway to junction 20 then turn around and head south to junction 19.
Tomorrow night (Thursday 24 April) junction The M1 northbound entry slip road from the A14 will also be closed from 9pm to 6am for the installation of temporary barriers.
Traffic will be diverted via the M6 westbound to junction 1 onto the A426 northbound to A4303 eastbound to junction 20 of the M1.
On the night of Thursday 1 May the M6 westbound carriageway will be closed between the M1 junction 19 to M6 junction 1 for survey work. The closure takes place from 9pm to 6am.
Traffic will be diverted via the M1 northbound to junction 20, the A4303 and A426 to join the M6 at junction 1.
Ivan Marriott, Highways Agency project manager said:
"This work can only be done safely with complete closures. We will minimise delays by carrying out the work at night but advise motorists to allow extra time for their journeys on these dates."
The M1 Junction 19 Improvement Scheme near Catthorpe, Leicestershire, started in January. The £190.7 million scheme will reduce congestion and improve journey time reliability and safety by replacing the existing junction with a three-level junction and improving roads between the villages of Catthorpe and Swinford so local traffic can avoid the junction.
Around 142,000 vehicles a day pass through the Catthorpe junction but the current layout of the junction makes it difficult to meet demand, leading to congestion, delays and impacting on safety.
The M1 Junction 19 Improvement Scheme will provide the following direct free-flow links:
A14 to M1 northbound;
M1 southbound to A14;
M6 to A14 in both directions;
M6 to M1 southbound; and
M1 northbound to M6
The M1 will remain on its current alignment. Improvements to the Local Road Network will include:
a new link between Rugby Road and Shawell Lane north of the M6;
a local route under the junction between Swinford and Catthorpe; and
improvements to Shawell Lane/Catthorpe Lane, between Catthorpe Road and the M6 to the east and towards the A5 to the west.
Further information about the project is available on the scheme's website
General enquiries
Members of the public should contact the Highways Agency Information Line on 0300 123 5000.
Media enquiries
Journalists should contact the Highways Agency press office on 0844 693 1448 and use the menu to speak to the most appropriate press officer.
Published 23 April 2014