Press release
Overnight closures for resurfacing and lighting maintenance on the A27 in Worthing
Drivers to benefit from a resurfacing and lighting replacement scheme on the A27 in Worthing.
This news article was withdrawn on
This document is no longer current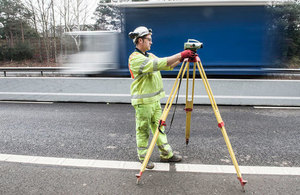 Drivers are set to benefit from a resurfacing and lighting replacement scheme due to start next Monday (4 April). The scheme will see 82 street lights replaced with 73 new energy efficient lights and is expected to finish in August. Sections of the carriageway will also be resurfaced between Offington Corner and Cote Street using overnight carriageway closures due to be completed at the end of April.
Highways England asset manager for Sussex, Peter Philips said:
We will be resurfacing sections of the carriageway that is reaching the end of its life and replacing 82 lights to maintain safe and reliable journeys for drivers on the A27 through Worthing. We have carefully planned the work to be carried out with any closures overnight, when we know traffic flows are lowest, to minimise disruption.
The A27 Offington roundabout will be closed for resurfacing overnight, between 8pm and 5am, from Monday 4 April until Friday 22 April. Clearly signed diversions will be in place during the closures, using either the A2032 or the A280 and A24.
Work to replace the lights will start on Monday 11 April. It will be carried out during the daytime, between 9.30am and 3.30pm, with no impact to the A27 and overnight, between 9pm and 6.30am, using carriageway closures. Any noisy work will stop by 11pm.
The A27 will be closed in both directions for a small section near the work site between the Grove Lodge roundabout and the Clapham junction on the following dates:
Monday 18 April to Friday 22 April
Monday 9 May to Friday 14 May
Monday 13 June to Friday 18 June
Monday 11 July to Friday 15 July
Monday 1 August to Friday 5 August
Access for local residents and business will be maintained and managed locally on site.
A survey was carried out in 2015 asking residents and local businesses whether they wanted noisier but a shorter duration or quieter and a longer duration for the roadworks. The resounding response was in favour of the noisier but shorter duration using mechanical extraction of the old lights.
A public exhibition was held on Thursday 24 March at Worthing College when members of the Highways England project team were on hand to answer questions from local residents and businesses.
General enquiries
Members of the public should contact the Highways England customer contact centre on 0300 123 5000.
Media enquiries
Journalists should contact the Highways England press office on 0844 693 1448 and use the menu to speak to the most appropriate press officer.
Published 1 April 2016