Press release
Overnight closures for M56 bridge work at Manchester Airport junction
Narrow lanes and a 50mph speed limit along the M56 near Manchester Airport will be removed next week as work on a £5.5 million Highways Agency motorway bridge project progresses.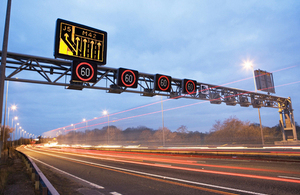 To allow the traffic management to be removed a full closure of the westbound M56 between junction 5 and junction 6 will be taking place overnight on Saturday 22 November. A full closure of the eastbound carriageway between junction 6 and junction 5 will then be taking place on Sunday 23 November. On both nights the closure of the affected carriageway will be in be in place between 10pm and 3am.
The narrowed lanes and speed limit have been in place since August when the old bridge over the motorway, at Thorley Lane at junction 5, was demolished.
Construction of the new bridge deck is progressing well on a site adjacent to the motorway. And work to install new bridge supports, including a large pier in the central reservation, has now been completed - enabling traffic management to be lifted.
Highways Agency project manager Mark Mosley said:
By Monday 24 November all the restrictions though this junction will be lifted and we won't be returning to do anymore work until February when we will be lifting the new bridge deck into place.

We would like to thank drivers for their patience over the last few months and also to reassure people that we've been once again working closely with organisations like Manchester Airport to carefully plan these works.
The timing of this month's two overnight closures has been made in consideration of Manchester Airport traffic.
Wayne Poole, Director of Passenger Services at Manchester Airport said:
The Highways Agency is carrying out its essential works on and around the main routes into Manchester Airport this month, and we will continue to work closely with them to ensure as little disruption to passengers as possible.
Diversion routes are in place but passengers should leave enough time to get here.
During the Saturday night closure drivers using the westbound M56 out of Manchester will still be able to access the airport as normal from junction 5. However, if they want to travel beyond junction 5 towards North Wales they will need to take a diversion via the M60, M62 and M6.
During the Sunday night closure, the eastbound carriageway will be closed at junction 6 and drivers will need to take a short alternative route from there to the airport. Anyone seeking to travel beyond the airport towards Manchester will need to take a diversion from the M6 and use the M62 and M60 instead.
The old Thorley Lane bridge – which linked Whitecarr Lane and Runger Lane north and south of the motorway – was demolished in August after weakening with age and being unable to carry lorries for several years.
To allow the demolition the motorway was fully closed for a weekend – and a weekend closure will be needed again in February when the new bridge deck is installed.
The new bridge is being delivered as part of the Government's £317 million 'pinch-point' initiative to help stimulate new jobs at new housing within the airport hinterland.
More information about the work is available on the project's dedicated web page.
General enquiries
Members of the public should contact the Highways Agency Information Line on 0300 123 5000.
Media enquiries
Journalists should contact the Highways Agency press office on 0844 693 1448 and use the menu to speak to the most appropriate press officer.
Published 12 November 2014