Press release
Overnight carriageway closures for delayed Thelwall Viaduct repairs
Drivers using the M6 through Cheshire are being advised that Thelwall Viaduct will be subject to overnight carriageway closures next week as a £2.5 million maintenance project moves onto the northbound bridge.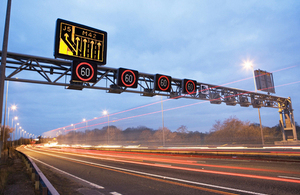 The work, which began at the end of February, was due to be completed by Friday 9 May but further concrete repairs were needed to the concrete deck beneath the bridge expansion joints, delaying the work by up to a month. It is now hoped the work will be completed in early June.
A part-contraflow operation has been in place along the southbound carriageway since the beginning of March – but keeping four lanes running along each carriageway during the repairs for most of the time.
The Highways Agency is replacing six bridge expansion joints in the two bridge decks. With work on the southbound bridge largely completed over the weekend and some minor finishing works taking place this week, the traffic management and part-contraflow arrangement will now move onto the northbound bridge. To allow the switch-over, a full overnight closure of southbound carriageway will take place on Tuesday of next week (22 April) and the northbound carriageway will be closed overnight on Wednesday night (23 April).
The closures will take place between 10pm and 5am on the nights in question with the southbound carriageway closed between junction 21A and junction 20 on Tuesday night and the northbound carriageway closed between junction 20 and junction 21 on Wednesday. On both nights, clearly-signed diversions will be in place.
Highways Agency project sponsor Louise Cannon said:
Drivers who've been using Thelwall Viaduct regularly during this work will know there is a 40mph speed limit in place for safety reasons and we would like to thank everyone for their continued patience as we work to complete this vital maintenance project.

We would also like to apologise for the delay in switching the work across to the northbound bridge. Thelwall Viaduct is heavily used with a significant proportion of commercial traffic and it is in the nature of this kind of work that you cannot exactly predict the kind of repairs needed before installing the new bridge joints.

Our contractors have been working hard to complete the repairs and install the new expansion joints on the southbound bridge as quickly as possible but we are currently a month behind schedule.

Traffic conditions on the southbound carriageway should now ease. Drivers using the northbound carriageway will find a contraflow arrangement in place from the middle of next week with some extra congestion possible at peak times. We encourage them to think about planning their journeys – whether that means checking traffic conditions before setting out, staggering their normal journey times or using an alternative motorway route.
A dedicated project page has been set up on the Highways Agency's website. It includes advice and tips for planning and managing journeys during the project.
Drivers can sign up for regular email and Twitter updates. Scheme and live traffic information is also available from the Highways Agency's Information Line at 0300 123 5000.
Electronic and hard signs will also be used to give information to motorway users.
General enquiries
Members of the public should contact the Highways Agency Information Line on 0300 123 5000
Media enquiries
Journalists should contact the Highways Agency press office on 0844 693 1448 and use the menu to speak to the most appropriate press officer
Published 16 April 2014