Over-confident 'Generation Super Gran' dismisses risk of home fire
Over-65s are putting their lives at risk when it comes to the life threatening danger of a fire in the home, with almost 80 per cent dismissing…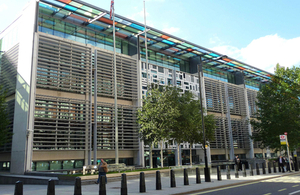 Over-65s are putting their lives at risk when it comes to the life threatening danger of a fire in the home, with almost 80 per cent dismissing the possibility of fire.
Dubbed 'Generation Super-Gran', England's over 65s are more active and independent than ever, with role models such as Felicity Kendal, Helen Mirren and Joanna Lumley. However, while tradition teaches that the older we are, the wiser we become, a younger generation are outstripping their elders when it comes to fire safety.
Despite the fact that over half of all the people killed in an accidental fire in the home are aged 65 or over1, the vast majority don't consider fire a risk. On top of that, a massive 90 per cent overestimate their ability to escape.
In comparison 25 to 35 year olds are much more conscious of the need to plan an escape route - only six out of ten thinking they'd realise there was a fire and be able to escape.
The Fire Kills Campaign is reminding over 65s that they're not invulnerable to the danger of toxic smoke and asking them to become more fire-aware.
79 per cent think it's unlikely there will be a life threatening fire in their home2, yet nearly 1,700 people in this age group suffer fire-related injuries each year.3
Half think it's unlikely they would die if there was a fire.4
Nine out of ten think they'd realise if there was a fire in their home and be able to escape.5
A quarter don't think it's necessary to test their smoke alarm every week.6
Sir Ken Knight, the Government's Chief Fire and Rescue Adviser:
What many people over the age of 65 don't realise is that just two to three breaths of toxic smoke could leave you unconscious. You have less than two minutes to escape in a fire before your lungs fill up with smoke and you can't breathe - so it's vital that as well as having a working smoke alarm, an escape route is planned and practiced, especially as you get older, it will take more time to evacuate your home safely.
Judy Moore, who sadly lost her father in a domestic fire said:
There is nothing more devastating than losing a loved one in a fire. The fire was caused by an old-fashioned blow heater, and at the time my father was sleeping and unaware of what was happening. A working smoke alarm may have made all the difference, the sound of the alarm could have woken him up and given him those valuable few minutes to escape. I know the distress a fire can cause and would not want anyone to experience the same. I now ensure all my family, including my two grand daughters in their new homes, are doing all we can to prepare for and prevent fires.
Michelle Mitchell, Age UK's Charity Director adds:
It's shocking to hear that people over the age of 65 are more likely to die in a fire in their own home, compared to someone who is younger. It's therefore vital that we all take the steps to make sure we are doing what we can to prevent this from happening. Planning your escape route now, as well as testing your smoke alarm every week to check it works, are two important steps. If you are unable to test your own alarm, ask a family member or neighbour to do so for you. You can also contact your local fire and rescue service to ask for an expert to come out to your home to look for any potential fire hazards and help you with your escape route.
The Fire Kills campaign provides the following tips on how to make sure you can escape safely in a house fire:
Make sure you have a working smoke alarm and you test this once a week
Preparing and practicing a plan of action will help you act quickly if there's a fire in your home - it could even save your life.
Make sure you've chosen your escape route and think of any difficulties you may have getting out and help you may need, such as a torch to light your way or a stair rail.
Consider a place to go if you can't escape, especially if you have trouble moving around or can't get downstairs on your own.
Make sure everyone knows where the door and window keys are kept.
You could even write out a step-by-step escape plan and leave it somewhere safe so can you have it to hand if needed.
Visit www.direct.gov.uk/firekills (external link) or contact your local Fire and Rescue Service for information and advice on fire safety or to arrange a free fire risk check for your home.
Notes
1 Fire Statistics UK 2007, Communities and Local Government
2 GfK NOP research, November 2008 (p. 5)
3 Fire Statistics UK 2007, Communities and Local Government
4 GfK NOP research, November 2008 (p. 21)
5 GfK NOP research, November 2008 (p. 45)
6 GfK NOP research, November 2008 (p. 1)
Twitter
Keep up to date with the Department by following us on Twitter (external link).
Media enquiries
Visit our newsroom contacts page for media enquiry contact details.
Published 10 November 2010