Press release
Over 85,500 applications for 2016 BPS submitted by deadline
With over 85,500 applications submitted on time for the 2016 Basic Payment Scheme (BPS), the Rural Payments Agency (RPA) is reminding anyone yet to apply that they can still do so until midnight on 10 June.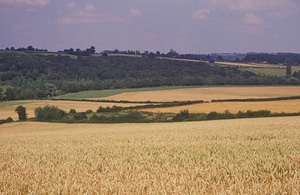 Claims submitted during the penalty period after the 16 May deadline will incur a 1% penalty for each working day they are late so getting them in quickly is important. Farmers can still make certain amendments until midnight 31 May without being penalised. Some changes can still be made after this date but may be liable to a penalty.
RPA received more than 69,100 online applications for BPS 2016 ahead of the deadline. More than 16,400 additional paper applications have also been received – and this figure may increase as the Agency continues to collate applications received through its support centres and post during deadline day.
In addition, Natural England has received 97% of Environmental Stewardship claims so far and over 93% of Countryside Stewardship claims.
Chief Executive of the RPA Mark Grimshaw said:
I am pleased that over 85,500 applications were received ahead of the 16 May deadline with such a high proportion – 3 out of 4 claims - submitted online, including a number who switched from paper to online.

The Rural Payments Service worked well, and continues to do so to enable farmers to make their applications on time and to make certain changes without penalty until 31 May.

I would urge anyone yet to make their application for 2016 to do so as soon as possible before 10 June so they don't miss out.
To date over 86,200 (99%) farmers have received a claim or bridging payment on their BPS 2015 claim.
RPA is encouraging farmers who may have an outstanding query, or are waiting for the balance of their 2015 payment, to still apply as soon as they can – using the latest information they have available – to avoid incurring the 1% per working day penalty.
Farmers yet to apply can continue get assistance at five online support centres open across England, via the Rural Services Helpline and advice and guidance available on GOV.UK.
Farmers were able to access a range of support to submit their 2016 application on time including:
14 online support centres around the country offered face-to-face support – all centres were open until midnight on 16 May. Helped almost 700 people at these centres over the final weekend and on deadline day;
A dedicated Rural Services helpline open weekdays 8.30am to 5pm and at weekends from 9am to 12.30pm. The helpline received nearly 25,500 calls in the six weeks leading up to the deadline, including almost 4,800 calls in the final week alone;
Updated guidance and hints and tips available on GOV.UK;
A range of videos providing help and support on the RPA YouTube channel; and
Attending and speaking at 123 industry shows and staging 2 webinars – in total reaching more than 10,000 potential customers.
Detailed support available until 10 June 2016
Online support centres
Until 10 June, five online support centres across England are open to support farmers - located in Reading, Newcastle, Workington, Carlisle and Exeter. Check online at www.gov.uk/guidance/bps-2016 for full opening hours of your local centre.
Rural Services helpline
The Rural Services helpline 03000 200 301 is open weekdays between 8.30am to 5pm for help and advice.
Videos and on screen help
A range of helpful videos and documents designed to make the application process as easy as possible can be found on GOV.UK. There's also a 'Hints and Tips' video on the RPA YouTube channel. Other videos include advice on changing land use and a general overview of how to apply online.
To make the online process easy to follow, step by step onscreen help is available throughout the application process and this useful guidance can also be printed off.
'Hints and Tips' document
RPA has taken the questions farmers and agents have asked as they applied for their 2016 BPS, and turned them into a helpful Hints and Tips document.
BPS 2015
As in previous years, any farmers with concerns about their BPS 2015 payment or claim details held by RPA should write or email the agency. The RPA will investigate any payment differences and make adjustments over the summer, through routine reconciliation.
BPS key dates
Now the 16 May deadline has passed, BPS 2016 entitlements and land parcels cannot be transferred using the Rural Payments service. RPA will confirm how to do this in due course for anyone who wants to ahead of BPS 2017.
Farmers can make changes to their already submitted claim until 31 May without incurring any penalties.
For those farmers who did not submitted their claim by the 16 May deadline, applications can still be received until midnight on 10 June though they will lose 1% of the value of their claim for every working day after the 16 May deadline their form arrives at the RPA.
For farmers looking to apply for new entitlements from the national reserve, applications made after 16 May will lose 3% for every working day.
Published 18 May 2016